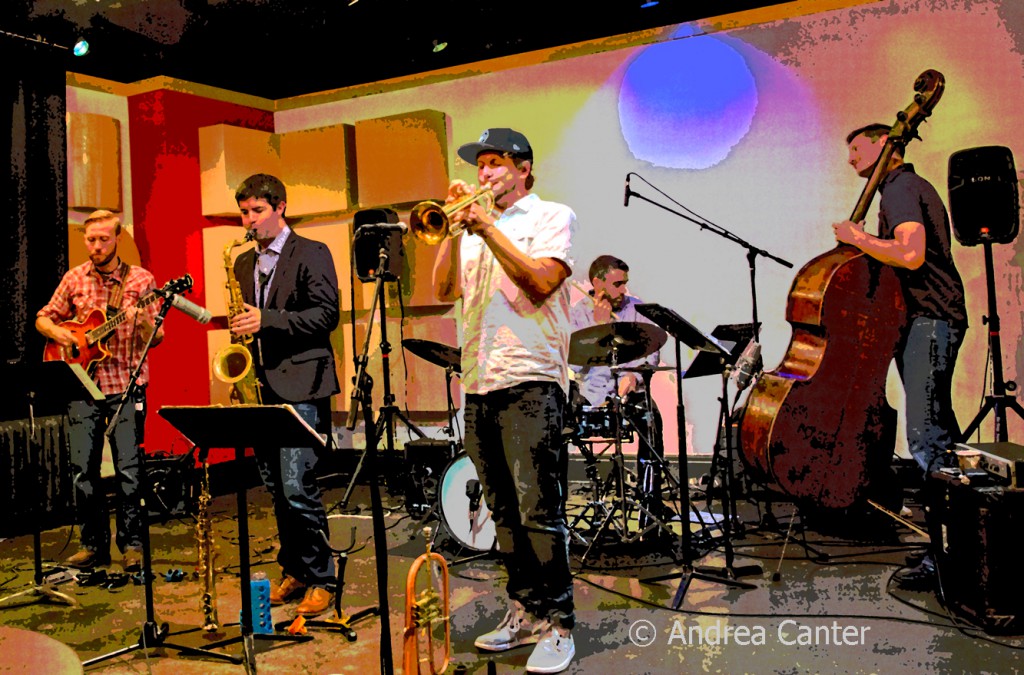 Zacc Harris, curator of the popular Jazz at Studio Z concert and workshop series for the past five years, announces the third annual Winter Jazz Fest in the Lowertown St Paul concert space on Saturday, February 27, 4-9 pm. Two soloists and three Twin Cities ensembles will each present a set of music — Dean Magraw's Red Planet, Bryan Nichols (solo piano), Adam Meckler Quintet, JT Bates (solo drums), and Dean Granros' Tall Tales. The fest this year also marks the second anniversary of Shifting Paradigm Records. Each set will run about 45 minutes. Tickets ($15) can be purchased in advance or at the door.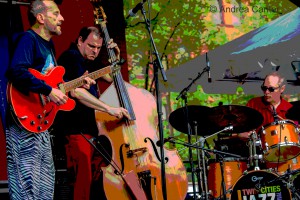 Dean Magraw's Red Planet
One of the area's most innovative musical threesomes, Red Planet was described by the Artists Quarter as "creative jazz for the 21st Century, inviting you to put one ear on the launching pad of neo-bop Trane/Hendrix/Monk burn, and your other ear on the celestial weightlessness from the musical cosmos." Cosmonauts Dean Magraw (guitar), Chris Bates (bass) and Jay Epstein (drums) have been orbiting for over a decade, and most recently recorded a new album with pianist Bill Carrothers for release later in 2016. Leader Magraw is one of the area's most eclectic musicians. In addition to Red Planet, he co-leads a monthly duo with percussionist Davu Seru at the Black Dog Café, and recently launched duo projects with pianist Steven Hobert and with veteran drummer Eric Kamau Gravatt, the latter pairing resulting in the recording, Fire on the Nile. Bassist Chris Bates appears with a long list of bands from the Atlantis Quartet to Dean Granro's Tall Tales, and leads Red 5 and the Good Vibes Trio. Drummer Jay Epstein also appears with Tall Tales as well as Framework, Firebell, Five by Design and many more ensembles.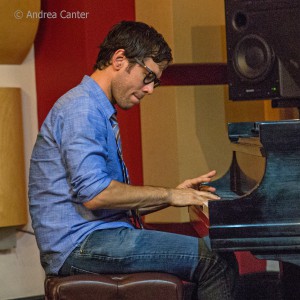 Bryan Nichols, Solo Piano
Bryan Nichols returned to his native Minnesota after genetics studies at Iowa State University and gigging in Chicago. A member of the 2004 edition of Betty Carter's Jazz Ahead at Kennedy Center in Washinton, DC ("Jazz Stars of Tomorrow"), he's played with Ari Brown, Maurice Brown, Von Freeman, and more, and has taught at the MacPhail Center for Music and University of Wisconsin-Eau Claire. Locally Bryan is heard with his own trio, Nichols Bates Bates, his quintet, and large ensemble, We Are Many; performs and tours with Dave King; and appears with other innovative artists including Zacc Harris, Chris Bates, JT Bates, and more. He's a frequent duo performer on weekends at the Icehouse, often with bassist James Buckley. Bryan was a 2010 recipient of a McKnight grant and released Bright Places in 2011. Tonight he will preview original compositions from his upcoming solo release.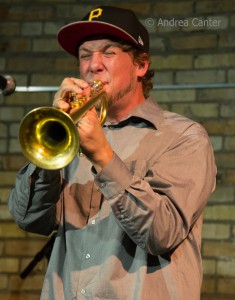 Adam Meckler Quintet
A performer, composer and educator, Adam Meckler received his undergraduate degree in trumpet performance with a jazz studies emphasis from Lawrence University in Appleton, WI and later earned graduate degrees from the University of Minnesota. Adam has performed with The Artie Shaw Orchestra, the Stan Bann Big Band, Nova Jazz Orchestra, Evan Montgomery Quintet, Todd Clouser's Love Electric, Youngblood Brass, and the Brass Barn Polka Band. These days he regularly performs with wife/vocalist Jana Nyberg's ensemble (Jana Nyberg Group), Jack Brass Band, Pete Whitman X-Tet, the Graydon Peterson Quartet, The Good, the Bad and the Funky; leads his Adam Meckler Quintet, Lulu's Playground, and Adam Meckler Orchestra; and co-leads Nooky Jones. In August 2015, Adam held three live recording sessions in three different venues with his Quintet, and will preview the resulting recording at Studio Z, to be released in April on Shifting Paradigm Records.  The Adam Meckler Quintet includes Meckler on trumpet, Shilad Sen (Adam Meckler Orchestra, Snowblind) on saxophones, Zacc Harris (Atlantis Quartet, Zacc Harris Group, Tall Tales) on guitar, Graydon Peterson (Graydon Peterson Quartet, Firebell) on bass, and Greg Schutte (Todd Clouser's Love Electric, Jelloslave, Chastity Brown) on drums.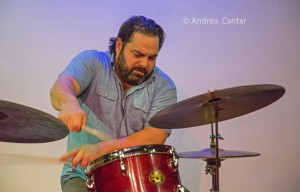 JT Bates, Solo Drums
J.T. Bates is one of the busiest drummers in the Twin Cities, on and off the bandstand. He was a member of Motion Poets and has worked with a variety of Latin, electronic, and experimental ensembles, including Bryan Nichols' Quintet and Trio, Chris Bates' Red Five, Fat Kid Wednesdays, the Zacc Harris Group, and The Pines. In addition to curating the Jazz Implosion series at the Icehouse on Monday nights, JT often appears on the Icehouse stage with such musicians as brother Chris, Dave King, Brandon Wozniak and more. He recently launched an organ trio ("Grain") with Kevin Gastonguay and Zacc Harris, and released an album of solo percussion  on Shifting Paradigm Records (Open Relationships). Noted Richard Brody in The New Yorker, "In free rhythm, his shimmering cymbals recall Sunny Murray's work with Ayler; the tom-tom groove is like the one Ed Blackwell got with Coleman; and, when he plays on an ethereally introverted modernistic piece, he sounds like a one-man Art Ensemble of Chicago, ready to use anything for the right sound—chopsticks, chains, his hands, and even the nub of a drumstick, which he rubs on cymbals to make them whisper as if butterflies were beating their wings upon them."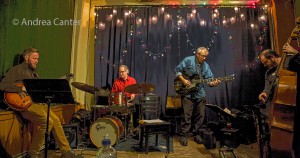 Dean Granros' Tall Tales
One of the working legends of jazz in the Twin Cities, Dean Granros launched his double guitar quartet, Tall Tales, about a year ago, featuring Zacc Harris, Chris Bates and Jay Epstein. The band has since performed at Jazz Central, the Black Dog, Studio Z and the Icehouse, and released its self-named debut recording last summer on Shifting Paradigm Records. Dean Granros studied music theory and composition at the University of Minnesota and studied composition with John Gessner at MacPhail Center for Music. Concurrent with those academic studies, he served a lengthy apprenticeship in jazz and blues, playing nightclubs such as the old Blue Note in North Minneapolis, the Extraordinaire, and the Downtowner. He was a co-founder of one of the Twin Cities seminal experimental jazz groups, "The Whole Earth Rainbow Band" in 1970, and in 1974 he created and wrote for "Lapis," an ensemble dedicated to exploring composition with structured improvisation. He later worked with Eric Gravatt in Kamanari, cofounded the improvising trio FKG, toured with George Cartwright's Curlew, and is a founding member of How Birds Work and AntiGravity. Fellow guitarist Zacc Harris leads the Atlantis Quartet, Zacc Harris Quartet, Zacc Harris Group, Zacc Harris Trio, Vital Organ and more, and performs often with Babatunde Lea, as well as curating Jazz at Studio Z. (See Red Planet above re Chris Bates and Jay Epstein.)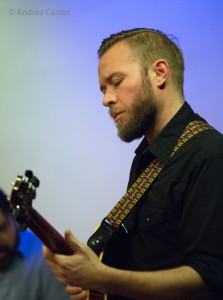 Jazz at Studio Z is a concert series held monthly, November-May, curated by Zacc Harris and supported by funding from the Minnesota Arts and Cultural Heritage Fund. Sponsors of the Winter Jazz Festival also include Shifting Paradigm Records, Riverview Cafe and the Black Dog Coffee and Wine Bar. Studio Z is located at 275 E. 4th Street, in the Northwestern Building, Suite 200, in St. Paul's Lowertown arts district; www.studiozstpaul.com