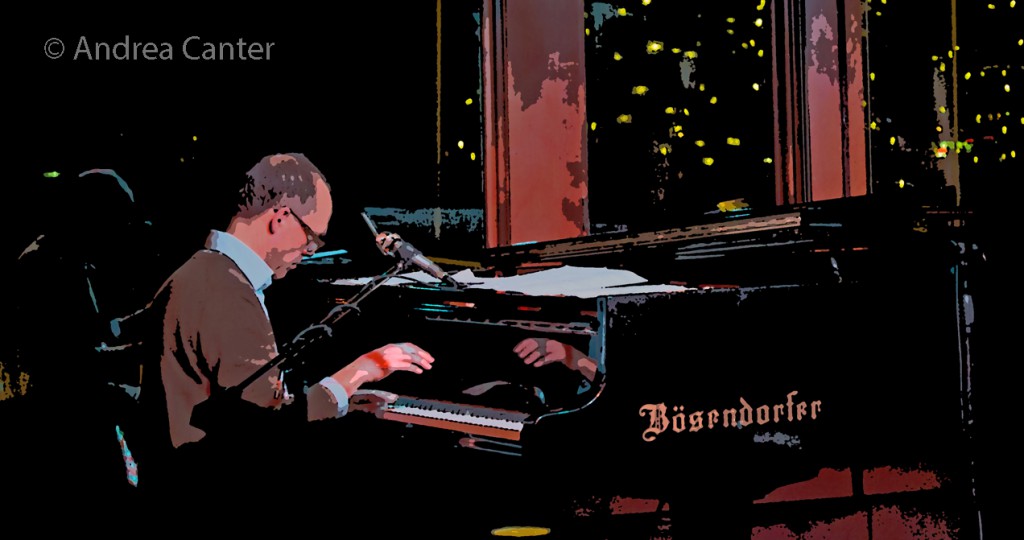 Back when, pianist Dan Chouinard hosted an acclaimed radio series, The Singer's Voice, broadcast live from the original Dakota Jazz Club at Bandana Square, featuring a different vocalist each week. When Crooners Lounge in Fridley opened the very listener-friendly Dunsmore Room at the end of 2015, sporting a nine foot Bosendorfer grant, it seemed like a natural fit for a new series of piano/voice duos. Dan launched the new project, The Birthday Club, on January 10, featuring Dan and a vocalist three Sundays per month, with each show built around the songs of musicians with birthdays that month. On February 28, Dan welcomes popular vocalist Judi Vinar to the Birthday Club, 7-10 pm.
Dan Chouinard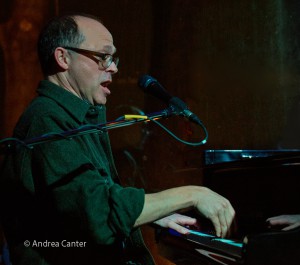 Dan Chouinard grew up in a big musical family near Lindstrom, MN, attended St. John's University in Collegeville MN and spent four years as a teacher of French and Italian as a graduate student at the University of Minnesota. Now nearly three decades into his career, Dan has served as pianist and accordionist for a distinguished roster of area artists, including Maria Jette, Prudence Johnson, Peter Ostroushko, Kevin Kling, and Philip Brunelle and Vocalessence. He's performed throughout the upper Midwest and is an occasional guest on Garrison Keillor's A Prairie Home Companion. Dan is probably best known around the Metro for his acclaimed radio series, The Singers Voice, which broadcast live from the Dakota Jazz Club (at its original St Paul location); each show featured a different vocalist each week, totaling 200 over the show's six-year run (1994-2000).
As a writer and host, Dan has created special live programs for Minnesota Public Radio, the MN Historical Society, the Rose Ensemble, and others. His show Civil War Homecoming played at the Fitzgerald Theater and was broadcast on MPR and televised on Twin Cities Public Television. His show about Ellis Island during the immigration era, Steerage Song, was co-written with Peter Rothstein and toured throughout Minnesota. In 2014, Dan's Cafe Europa –about bicycling with an accordion from Naples to Normandy in search of Minnesota WWII stories–was broadcast statewide. Dan's writings have been published in Minnesota Monthly, St. John's Magazine, Minnesota Orchestra's Showcase magazine, and the Star Tribune. A musical consultant and sometime bandleader at St. Joan of Arc Catholic Community in South Minneapolis, Dan also leads monthly community sing-alongs in downtown Minneapolis, St. Anthony Park, and at the Alliance Francaise. He recently spent two months in Italy working on an independent Hollywood film.
Dan has released two recordings of his own and appears on many others (Debbie Duncan, Connie Evingson, Prudence Johnson, Jennifer Grimm, Neal and Leandra, Connie Olson, Ann Reed); with Prudence Johnson he released 'S Gershwin in 2003, which they reprised and extended in 2014 with Gershwin.
Judi Vinar (Donaghy)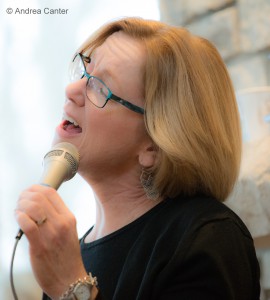 Judi first sang folksongs and played guitar at age 12, ultimately covering everything from Julie Andrews to Blood, Sweat and Tears. During her college days at the University of Nebraska, she performed in music theater and opera. Hearing the Wolverines Big Band with Shirley Witherspoon in the early 1990s inspired her to turn to jazz.  Over her career, Judi has worked in opera, musical theater, jazz, folk, country, gospel, pop, and R&B. Her recent resume includes Bobby McFerrin's Voicestra, Urbanstride, The Girls, the Wolverine's Classic Jazz Orchestra, Wolverines Trio, JazzMN Big Band, St. Croix Jazz Orchestra, and the quartet, "Judi, Cliff 'n' Daves."  Judi has also worked with Yo Yo Ma, Carole King, Janis Siegel, Rhiannon, Garrison Keillor, Marilyn McCoo, the Plymouth Ensemble, Metro Jam, Northrop Opera, Mixed Blood Theater, Cricket Theater, and Moore by Four; she received a JAZZIZ Magazine award as singer/songwriter; and has experience as an on-air talent and jingle singer/writer/producer.
Judi has given vocal master classes and clinics with Bobby McFerrin, and has sung on more than 30 CDs to date, including her own Sink or Swing, Ballads and Bossas, and most recent Swing On! with the Wolverines.  After sixteen years leading the Voice Department at McNally Smith College in St. Paul, Judi moved into the role of Assistant to the Dean of Academic Affairs, charged with developing new projects for the program. Now a freelance vocal clinician, Judi gives Master Classes and clinics on Vocal Improvisation, Efficient Vocal Techniques, Understanding Your Audience, and Ensemble Performance Strategies.  She is a faculty member for "Circlesongs,"  a 7-day workshop on improvisation with Bobby McFerrin at the Omega Institute in Rhinebeck, NY. Judi also serves as the Associate Music/Choir Director for Unity Christ Church in Golden Valley.
The Birthday Club
The Birthday Club is much more than another piano/vocalist gig. Think of it as a dose of  music history – no prerequisites or homework required, singing along optional. Guests scheduled in upcoming weeks include:
March 13, Ann Reed
March 20, Prudence Johnson
March 27, Maria Jette
There is no cover or ticketing for the  Birthday Club performances, but a $20 minimum for food and beverage will be charged to each person attending. Reservations are strongly recommended as seating in the Dunsmore Room is limited.
Crooners Lounge is located at 6161 Highway 65 NE in Fridley, just north of I-694; www.croonersloungemn.com; 763-561-9020. All Birthday Club shows begin at 7 pm; full bar and dinner menu available.