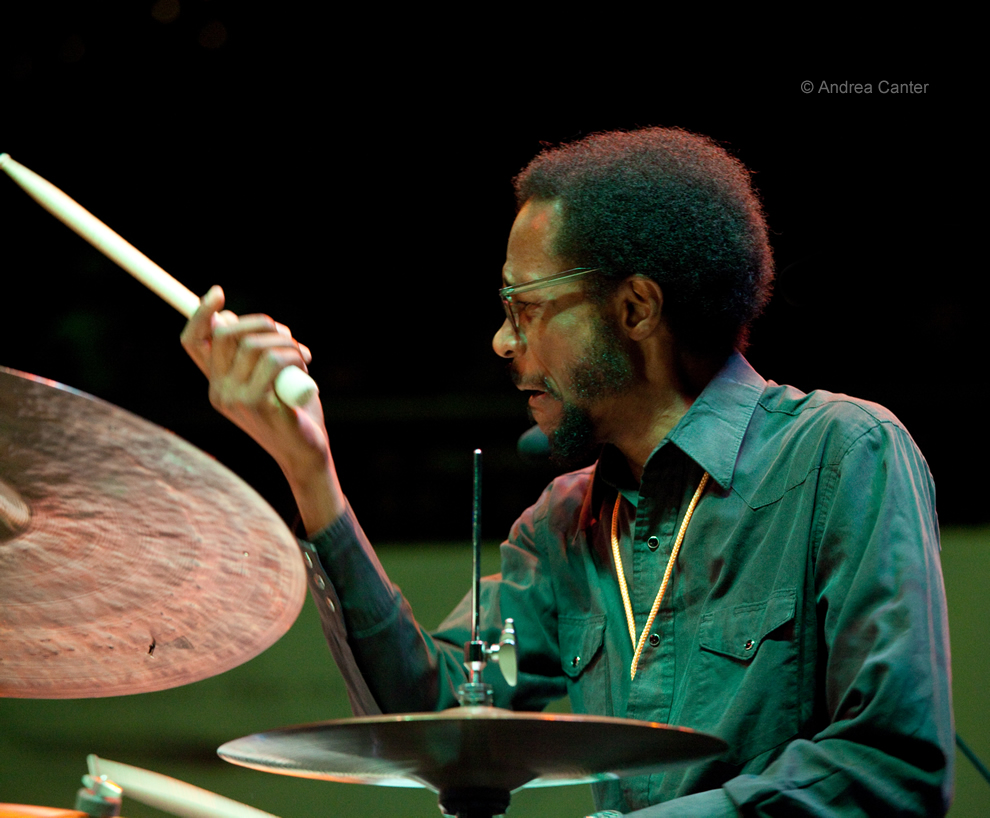 I want the music to be a fellowship. That's what you want from the world as a whole. I want the music to project that kind of togetherness. This ideal of fellowship is something I grew up with. I just want to extend the good memories. –Brian Blade
One of the most distinguished jazz ensembles of the past decade, The Brian Blade Fellowship will debut at the Dakota Jazz Club in downtown Minneapolis, March 2-3. Led by one of the most lauded drummers on the scene today, the Fellowship has longevity (16 years), four acclaimed albums, and currently tours as a quintet with Myron Walden and Melvin Butler on reeds, Jon Cowherd on piano, and Chris Thomas on bass.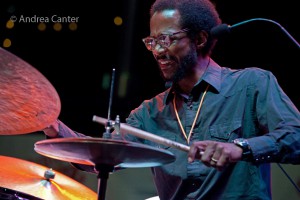 Brian Blade was born and raised in Shreveport, LA, where his early music experiences included gospel at his father's Zion Baptist Church. He started violin lessons at age 9, shifting to drums in middle school, following the lead of his older brother who was the church drummer. In high school, he began listening to John Coltrane, Charlie Parker, Miles Davis, Art Blakey, Elvin Jones and more. Moving on to studies at Loyola University in New Orleans, he was mentored by Ellis Marsalis, Johnny Vidacovich and Herlin Riley. His early career included touring and recording with Joshua Redman and Kenny Garrett, and over the years he has also performed with Bob Dylan, Emmylou Harris. Daniel Lanois, Marianne Faithful, Joni Mitchell and Herbie Hancock; in 2009 he released a singer/songwriter project, Mama Rosa.  In 2013, Blade was named International Artist of the Year/Drums and Percussion at the ECHO Jazz Festival, for his work with Ron Miles and Bill Frisell on their trio album, Quiver. With Wayne Shorter cohorts Danilo Perez and John Patitucci, Blad released the widely acclaimed album, Children of the Light (2015). Currently, in addition to the Fellowship, Brian tours with Wayne Shorter's quartet.
Blade formed the Fellowship Band in 1997, as a septet with saxophonists Myron Walden and Melvin Butler, guitarists Jeff Parker or Kurt Rosenwinkel, pedal steel guitarist Dave Easley, pianist Jon Cowherd and bassist Chris Thomas. Their debut album, Brian Blade Fellowship, was released in 1998, followed by Perceptual (2000), Season of Changes (2008), with the band now a sextet, and the most recent, Landmarks (2014), bringing back Parker and adding Martin Sewall for a two-guitar ensemble. Of Landmarks, critic John Kelman wrote, "Blending folkloric references, hints of church and spiritual concerns, jazz modality and countrified touchstones, Landmarks is the perfect name for Brian Blade & The Fellowship Band's fourth album; beyond its meaning to the group, it truly is yet another landmark recording in the core quintet's evolutionary travels." On tour today, the Fellowship is pared down to a quintet, with no guitar.
Miami native Myron Walden moved to Harlem at age 12, and was inspired by the music of Charlie Parker to take up alto saxophone. He went on to study at LaGuardia High School of Music and Art and the Harlem School of Arts, mentored by Yusef Lateef and Donald Byrd. He won the top honors at the Charlie Parker competition at Lincoln Center in 1993, and released his first album as leader in 1996, Hypnosis. He has since released recordings with his ensembles; he has also performed with Roy Hargrove, Freddy Hubbard and Kendrick Scott, in addition to the Brian Blade Fellowship.
Melvin Butler grew up in Kansas City, where he began tenor saxophone at age 12. He attended the Sumner Academy of Arts and Sciences for high school, and joined Eddie Baker's New Breed Orchestra after graduation. Attending the Berklee College of Music, he also led his own quartet at Wally's Cafe in Boston. As a participant in Betty Carter's first Jazz Ahead program, he first met Brian Blade. After relocating to New York, Butler worked with Donald Byrd and Christian McBride; then worked with B-3 masters including Reuben Wilson, Joey DeFrancesco, Dr. Lonnie Smith and Jimmy McGriffe. He joined the inaugural edition of the Brian Blade Fellowship in 1997, and in 2008 relocated to Chicago where he teaches Ethnomusicology at the University of Chicago. Currently he tours with Blade and with his own Melvin Butler Quartet.
Pianist/keyboardist Jon Cowherd was a founding member of the Brian Blade Fellowship. He has also recorded and/or toured with Cassandra Wilson, Lizz Wright, Kellylee Evans, Rosanne Cash and Iggy Pop. He grew up in Kentucky, meeting Brian Blade as a student at Loyola University in New Orleans. In addition to their collaboration on the Fellowship, Cowherd also worked with Blade on the drummer's Mama Rosa project.  In 2013, he released his first album as leader, Mercy, featuring a quartet with Bill Frisell, John Patitucci and Brian Blade. Jon is an active producer, handling albums for Lizz Wright and Alyssa Graham, and served as music director for a Joni Mitchel tribute concert at Hollywood Bowl.
Bassist Chris Thomas met Brian Blade at Loyola University in New Orleans, and became a founding member of the Fellowship Band in 1997.
The Brian Blade Fellowship performs two nights, two sets per night (7 and 9 pm) at the Dakota Jazz Club, 1010 Nicollet Mall in downtown Minneapolis. Reservations advised at 612-332-5299. More at www.dakotacooks.com