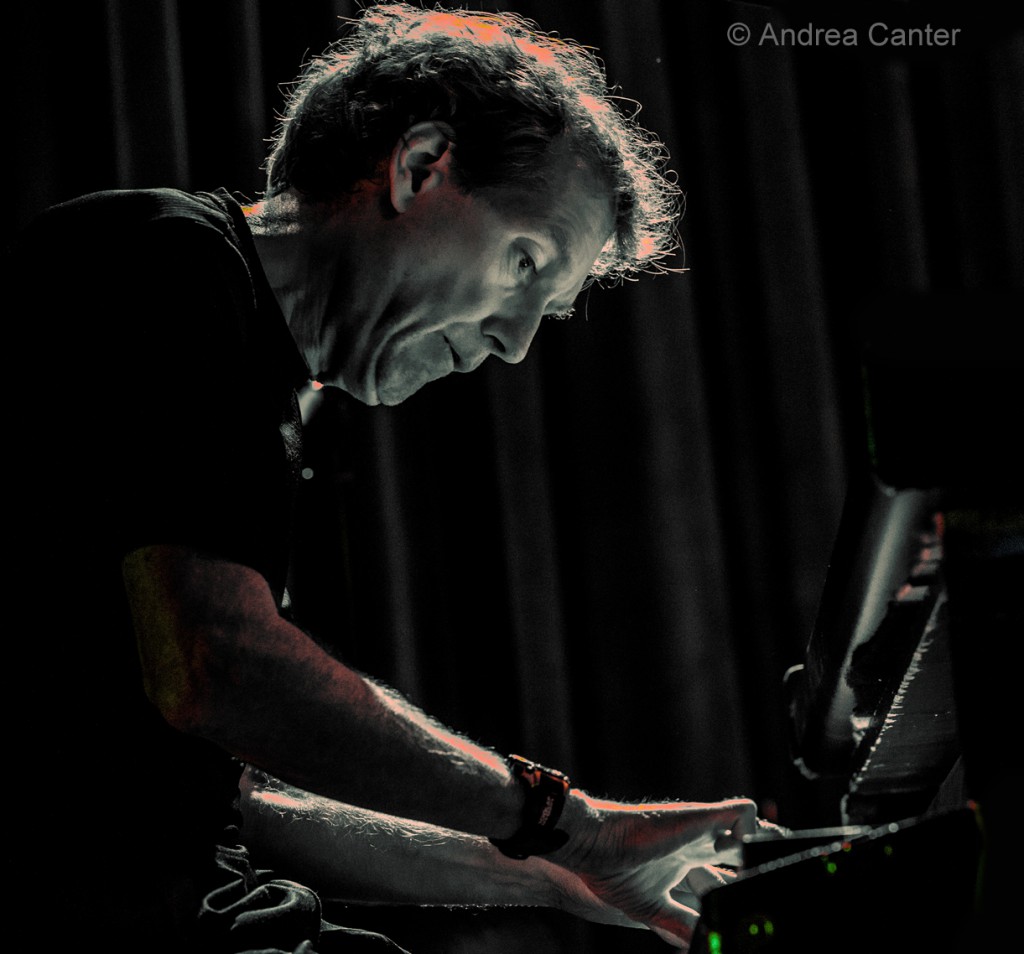 Known for his original piano arrangements and new compositions that often sport quirky time signatures as well as his vocal interpretations, Larry McDonough put his voice front and center in " Chet – The Beautiful Music and Tragic Life of Singing Trumpeter Chet Baker" at Jazz Central in early 2015. A few months later, Larry and his band brought the show to a sold-out audience at the Dakota. Often compared to the late Baker as a singer, Larry and his quintet will recreate that Baker sound over two sets on Friday, March 4 (9 pm), on the Friday Night Jazz at Reverie series. On Saturday, Larry and his quartet take the stage on the Jazz @ St. Barney's series at St. Barnabas Lutheran Church in Plymouth (7 pm), performing music from Larry's recordings as well as samplings of his Chet Baker, and new Tony Bennett/Bill Evans shows.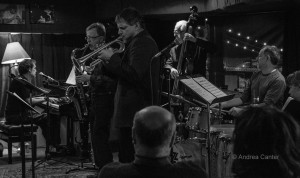 The Larry McDonough Quintet at Reverie
Larry McDonough first studied piano in fourth grade, added some vocals and gravitated to neighborhood garage bands in junior high, and was already gigging around town as a high school student in Bloomington, MN. Earning a degree in music education at the University of Minnesota, he had the opportunity to play both piano and trumpet in student ensembles with legends Clark Terry and Thad Jones, and in concerts for President Nixon and the President of Mexico. Through the late 1970s and early 1980s, McDonough worked as a part-time band instructor at Bloomington and Minneapolis high schools, and played in a number of Twin Cities' bands, ranging from jazz to pop and polka.  He also performed in his own duos and trios, appearing regularly at the old Night Train club in St. Paul and at Jax Café in Minneapolis.
Concerned that his music career was taking him too far from the "real world," McDonough enrolled in the William Mitchell College of Law in St. Paul in 1980, initially attracted to environmental law but then falling in love with legal aid work. After a few years away from music, he began giving some limited performances, but remained focused on his family (he has three daughters) and his career with Legal Aid.  Currently, Larry directs pro bono legal services for the poor at Dorsey & Whitney.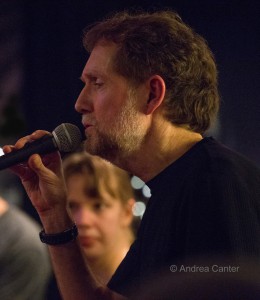 Music has pulled McDonough more into the public arena since the late 1990s. "The music gives me an artistic, expressive side. There are some elements in the law where you can do that, but, in music, it's more open-ended, especially in jazz." He began playing publicly again in solo, duo and trio formats, and with the popular fusion group, Bozo Allegro, and with (among others) the Wolverines and vocalists Patty Peterson, Shirley Witherspoon, Connie Olson, and Vicki Mountain. He also shared the stage with bop sax legend Benny Golson and trumpeter Duane Eubanks, and was inducted into the Minnesota Rock Country Hall of Fame for his work in the group Danny's Reasons.
Among a number of diverse projects, Larry has been involved with Fingersteps, a program in which children with disabilities write melodies and perform music using adaptive computer hardware and software. McDonough also merges spirituality with his music, often adapting faith-based musical pieces by changing the basic elements to create new arrangements. A composer since high school, Larry currently puts his writing skills to work by composing and arranging music for school music programs, ranging from small groups to concert and jazz bands, exposing young musicians to his "offbeat" harmonies and rhythms. He has also taught  through his adjunct appointment to the music faculty of the University of Minnesota. Larry has a number of recordings including solos (Small Steps and Tuscarora), the duo with Richard Terrill, Solotude, and several with his working quartet —Simple Gifts, Angels and Kings/My Favorite Things— which showcase his ability to turn time inside out and maintain harmonic integrity. He is known for arranging familiar pieces in 5/4 or 7/4 time, giving them a different sound and feel without losing the underlying melody. Further, his feathery touch recalls Bill Evans but with more fingers; his left hand alternately propels and sings; his dazzling two-handed runs display clear articulation from every digit.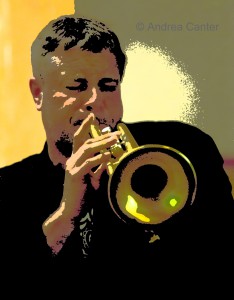 Steve Kenny, in addition to his many collaborations as a performing artist, has elevated the local jazz scene in the past two years with two seasons of a weekly summer "all-originals" series at Studio Z, a weekly Saturday Night Jazz at the Black Dog, and the weekly Friday Night Jazz at Reverie. Over his career, Kenny has performed with Pete Whitman's Departure Point, Dave Karr, The Five, What Would Monk Do, and the Cedar Avenue Big Band; is a co-founder of the popular Illicit Sextet; headed five years of weekly gigs at the Artists Quarter with the Bastids and then Group 47; and in the past two years has led Group 47 and the Steve Kenny Quartet at gigs at Studio Z, Black Dog, Jazz Central and the Twin Cities Jazz Festival.  A graduate of the University of Wisconsin-River Falls, Steve has received a Minnesota Music Award, West Bank School of Music Jazz Composer award, and multiple honors as Best Jazz Trumpet at the Eau Claire Jazz Festival. He was one of four local jazz musicians commissioned by Zeitgeist to write and perform a new work during the 2014 Twin Cities Jazz Festival.  As if he was not busy enough, in February Steve took over administration and technical support of the Jazz Police website.  And that instrument Steve plays? It's a FLUMPET™– a hybrid trumpet/flugelhorn.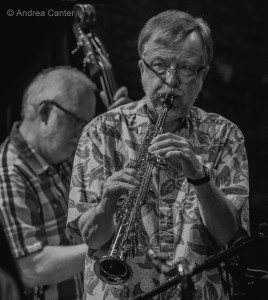 Richard Terrill, tenor and soprano sax, has performed with Larry McDonough for about 15 years. He also has performed locally with guitarist Jim McGuire and with Chaz Draper's Uptown Jazz Quartet.  As a student at the University of Wisconsin-Eau Claire, Dick performed regularly with the Lyle Mays Quartet, and later with Geoffrey Keezer. In addition to his work as a musician, he has published collections of poetry (Coming Late to Rachmaninoff–winner of the 2004 Minnesota Book Award for Poetry, and Almost Dark) and a jazz memoir, Fakebook: Improvisations on a Journey Back to Jazz. Dick teaches creative writing at Minnesota State University Mankato.
Bassst Greg Stinson has been the bassist in the Century College Jazz Ensemble for more than 25 years. He also plays in the CC Septet, Shorn Hortz Quintet, Paul Berger Trio, the St. Croix Jazz Ensemble, and regularly subs with the Nova Contemporary Jazz Orchestra, Classic Big Band, and Cedar Avenue Big Band. Greg also is an active composer and arranger for area ensembles and big bands, as well as churches and school groups.
Dean White played in various working bands while attending the University of Wisconsin, Superior. After graduating with a Bachelor's degree in percussion performance, he moved to Hollywood, California to attend Musicians Institute College of Contemporary Music. Half-way through the first year, Dean was offered a main showroom gig at the Imperial Palace in Las Vegas. He was the first drummer in the Legends In Concert Show that still performs in various incarnations across the country today. Since settling back in the Twin Cities, Dean has performed with the Good, the Bad and the Funky; the Autobody Experience; Century Big Band; Nova Jazz; Big Time Jazz Orchestra; the Shorn Hortz jazz quintet; Power of 10; Jack Knife and the Sharps; Tubby Esquire; Hennessy Brothers jazz; and many others.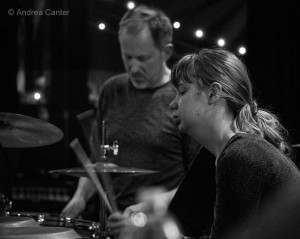 Rosie McDonough has performed music since her early years both with her father, Larry McDonough, as well as with Highland Friendship Club, a social group she attends for adults and children with disabilities, and the St. Paul Bridge View and Focus Beyond, public schools she attended for persons with disabilities. She now works at TSE, a nonprofit company that supports people with developmental and other intellectual disabilities. Her present musical focus is on African drum.
Larry Salutes Chet
Chesney Henry "Chet" Baker, Jr., was born on December 23, 1929, and by the mid-1950s he was a popular singer and trumpeter. His hip, cool style of singing and playing jazz standards made him a peaceful alternative to the hectic quality of bebop. Even a movie career awaited, based in part on his leading-man good looks and bad-boy persona. But there was a detour ahead when his drug addiction dominated the 1960s, leading to incarcerations, deportations, and ultimately a drug deal beating that broke his teeth and scarred his movie star looks. With dentures and a new embouchure for playing trumpet—but without the face and voice that had made him a star—he resurfaced in the 1970s and 1980s, again producing recordings at the pace he did in the 1950s. At approximately 3:00 a.m. on May 13, 1988, he was found dead in Amsterdam on the street below his second-story room with serious wounds to his head. The death was ruled an accident, but speculation continues.
In the first set, "Chet" will cover the range of the Chet Baker catalog, performing pieces from the 1950s, including "My Funny Valentine," "The Thrill Is Gone," "When I Fall in Love," "You Don't Know What Love Is," and "There Will Never Be Another You," as well as songs from the end of Chet's life, such as "All Blues" (the rare vocal version), "Softly as in a Morning Sunrise," and "Moon and Sand." In the second set, Larry will add pieces from his catalog sung in Chet's style, including "My Romance," "How Insensitive," "Night and Day," and "Some Other Time" (the latter pair from his Solitude, Poetry in Jazz CD), as well as the original "Tuscarora," "My Favorite Things" in 5/4, and "They Can't Take That Away From Me" (all from his Simple Gifts CD).
Larry and Steve also will discuss Chet's life and music and their impact on jazz as well as themselves, and  Minnesota Book Award winner Richard Terrill will read poetry about Chet and pianist Bill Evans.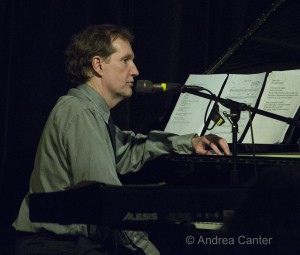 Larry McDonough Quartet at St. Barneys
The LMQ at St. Barneys will include McDonough, Terrill, Stinson and drummer Nathan Norman. Norman has an extensive resumé performing with area artists, including vocalists Debbie Duncan, Connie Evingson, JoAnn Funk, and Charmin Michelle. He's also played and/or recorded with Bill Banfield, Nancy Bierma, Robert Huntley, French 75 and more, and performs regularly with the Illicit Sextet and Travis Anderson Trio. The quartet will perform songs from each of Larry's CDs and DVDs and his current shows, "Chet – The Beautiful Music and Tragic Life of Singing Trumpeter Chet Baker," "Bill Evans and Tony Bennett – 40 Years Later," and "AcoustElectric." Minnesota Book Award winner (and saxophonist) Richard Terrill will read poetry about Chet Baker and pianist Bill Evans. For their Jazz @St. Barney's show, LMQ is taking song requests from Larry's recordings and shows. Take the survey at https://www.surveymonkey.com/r/DPSVN6B and help create the song list for the show!
Reverie (formerly The Nicollet) is located at 1931 Nicollet Ave South in Minneapolis, just south of downtown at the corner of Nicollet and Franklin. No cover but donations ($10 suggested) appreciated to support the musicians and the jazz series. See Friday Night Jazz at Reverie schedule.  Jazz@St Barneys is located at St. Barnabas Lutheran Church at 15600 Old Rockford Road in Plymouth; tickets $10 at the door.