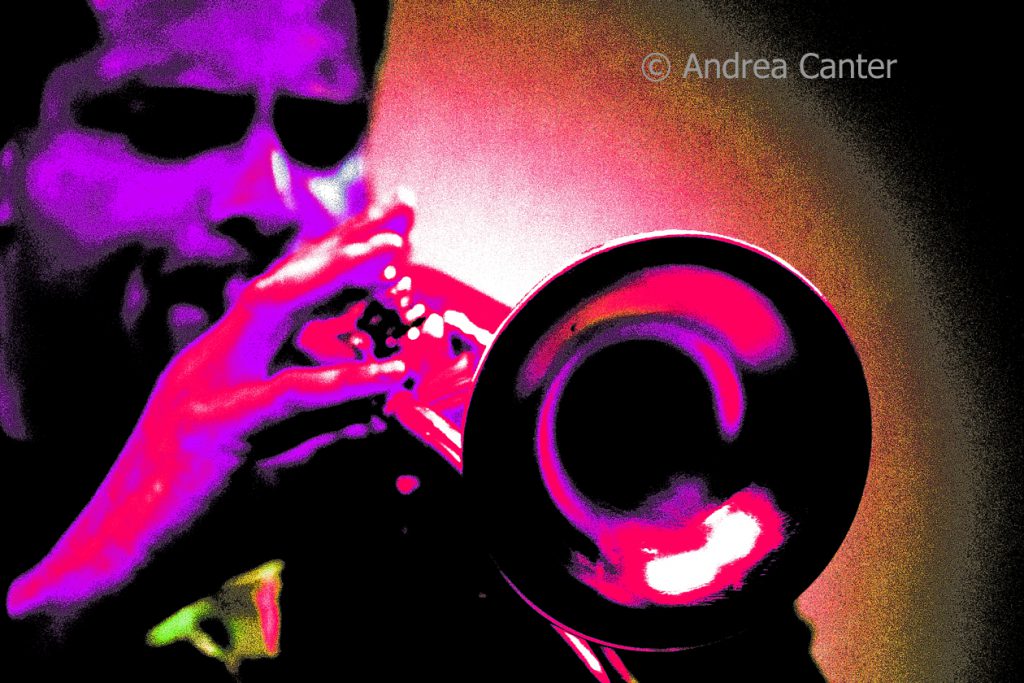 © Andrea Canter
"The fact that the series is hitting this 200th show milestone is all the proof you need to see that there a fantastic jazz scene in the Twin Cities… great musicians, and an audience as well." –Sara Remke (Black Dog)
March 24–it's not just Saturday Night Jazz at the Black Dog, it's the 200th consecutive Saturday Night Jazz at the Black Dog! And who better to lead the celebration than curator/trumpet master Steve Kenny, headlining at 8:30 pm with his quintet featuring a cross-generational list of local stars– Aaron Hedenstrom on saxes, Levi Schwartzberg on vibes, Charlie Lincoln on bass, and Babatunde Lea on drums. The opening set at 7 pm also offers some hefty talents– "Smashing Carp" brings together Noah Ophoven-Baldwin on trumpet, George Cartwright on saxes, Michelle Kinney on cello, Davu Seru on drums, and Joe Horton on vocals. All in all, a great 200th night.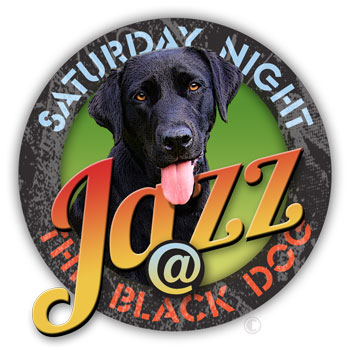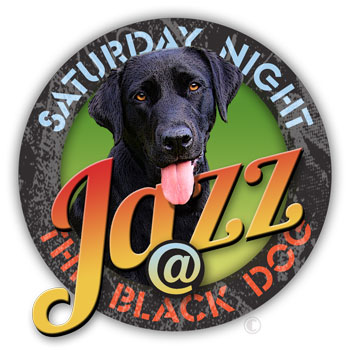 Two Hundred Saturday Nights!
"I have always known that if you regularly present specifically jaw-dropping live Jazz that's well organized, well presented, decently compensated, and properly scheduled, the audiences are there," explains Steve Kenny. Combining all these factors was not easy and certainly not common, but Kenny persevered. "I think it has been important that the Black Dog was willing to allocate prime Saturday showtime absolutely every week," notes Steve. "I was unsuccessful many times trying to pitch this show proposal to other venues in the Twin Cities. Some were willing to have it 'once a month' on a Sunday afternoon, or with other stipulations that would hamper its success and, meanwhile, Sara Remke, who owns the Black Dog Cafe, was able to share the vision and agree to program it every Saturday."
And timing is everything, in jazz and business. Notes Black Dog co-owner Sara Remke, "When Steve started the Saturday Night Jazz at the Black Dog series, he tapped into a wonderful confluence of forces… our long history of presenting jazz, the resurgence of Lowertown as a destination, and our recent remodel adding full kitchen and full bar." And beyond good timing, Kenny took a chance on a system that ensured top musicians every week. "Steve Kenny has found a way to get everyone paid with a combination of donations and grants; it's a formula that works for the players as well as the venue," notes Sara Remke.  "Being such a respected player himself, Steve has been able to draw from the rich variety of jazz musicians in the Twin Cities to play on our stage. He brings together, on a weekly basis, seemingly disparate segments jazz…old-timers and up-and-comers…beboppers, free jazzers, straight-ahead swingers, and the next wave…and created a community, which aligns really well with what the Black Dog is all about."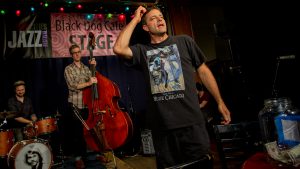 The quality of the music is another key to the series' success. Notes Kenny, "I do actually 'curate' the series, and favor groups that are well organized, have some level of audience development around them, and that might have a released product or two available. These kind of groups are the ones that consistently are able to give great concert performances. I also program new groups that may not have those aforementioned characteristics but, when they are so chock-full of our community's best players, I know it can lead to performance magic.  Every week, I hear the musicians making the leap of faith and playing the shows like a big concert and not just like a gig at a restaurant. And when these groups are well received by the audiences, I try to re-book them. Audiences have been able to tell the difference and have been responding."
The double-header format, which Kenny has presented from the beginning, is relatively unique in the Twin Cities. "The fact that it is a weekly double header helps too," says Steve, "and gives me a chance to present groups that are still incubating as opening acts for the established groups." Often the opening set has served as an opportunity to present the youngest of our area jazz musicians, including the almost-monthly JazzINK Youth Jazz Showcase. "Andrea Canter finds these great High School musicians, "notes Kenny," and their participation keeps expanding the audience and exposes the young players to a great playing experience, and more importantly, it allows them to hear the headliners and get to know these established players in our community, and witness a live performance where the Jazz is really happening in a situation where it is very successful. It's like brainwashing a whole new generation of players."
The two bands performing this weekend also reflect another frequent characteristic of the bands Kenny books on Saturday nights– cross generational ensembles. His own groups, like Group 47 and his quartets and quintets, bring together young lions in their 20s along with "young" veterans in their 30s and 40s, along with seasoned artists in their 50s, 60s and 70s.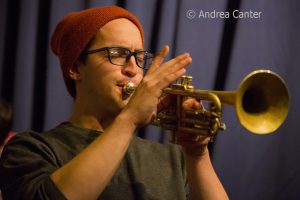 Smashing Carp (7 pm)
Some of the Twin Cities most inventive musicians come together for a set of somewhat controlled mayhem: Noah Ophoven-Baldwin on trumpet; George Cartwright on saxophones; Michelle Kinney on cello; Davu Seru on drums; and Joe Horton on vocals.
Steve Kenny Quintet (8:30 pm)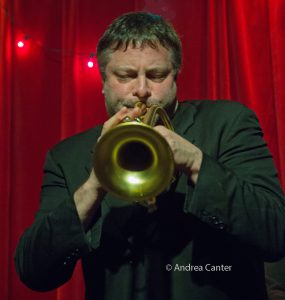 Curator Steve Kenny is not only one of the area's most active jazz curators, he is also one of our most prolific composers, performers, and bandleaders. A graduate of the University of Wisconsin-River Falls, Steve has performed with What Would Monk Do, the Cedar Avenue Big Band, and Larry McDonough's quintet (tribute to Chet Baker) as well as leading several editions of his own trio, quartet, quintet, Central Standard Time, and Group 47. He's best known as co-founder of the Illicit Sextet, an ensemble popular in the 1990s before taking a long hiatus, and back in action for the past nine years. Steve has received a Minnesota Music Award, West Bank School of Music Jazz Composer award, and multiple honors as Best Jazz Trumpet at the Eau Claire Jazz Festival. With support from a state arts board grants, he has curate the summer-long "All Originals" jazz series at Studio Z for four seasons. In fall 2014 he launched the weekly Saturday Night Jazz at the Black Dog series, and in spring 2015, brought a similar series (Friday Night Jazz) to The Nicollet, later rebranded and rescheduled as Thursday Night Jazz at Reverie, running until the venue closed at the end of July 2017. He now leads the Friday night "Illicit Jazz Workshop" series at Jazz Central, modeled after the successful series at the Black Dog.  In his spare time, Steve juggles a fulltime tech job, graduate studies in Computer Science, gigs with a number of bands, and also manages the Jazz Police website. And that instrument he plays? It's a FLUMPET™– a hybrid trumpet/flugelhorn.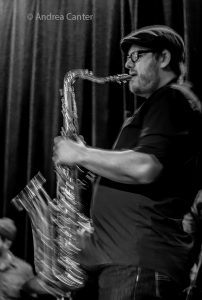 Saxophonist/composer Aaron Hedenstrom was born in Lesotho (Africa) where his parents were teaching; he grew up in the Twin Cities where he developed his interest and talent in music. Aaron attended the jazz program at the University of Wisconsin-Eau Claire, performing in the pop/rock band Underdub and with the John Raymond Project. After UW-EC, he moved to Denton, TX  where he earned a master's degree and then doctorate at the University of North Texas, serving as a Teaching Fellow and performing in the famed One O'Clock Lab Band.  As a student, Aaron earned a number of composing and arranging awards–2012 Detroit Jazz Festival Arranging Contest (for his arrangement of Wayne Shorter's "Yes and No"), the Herb Alpert ASCAP Young Jazz Composer Award, the Jazz Education Network Student Composer Showcase, 2013 Downbeat Student Award, Best Graduate Blues/Pop/Rock Soloist, and 2014 Downbeat Student Award, Best Graduate Jazz Soloist. Back in the Twin Cities for the past four years, Aaron leads his quartet and Orchestra, has released recordings with his orchestra, quartet, and a collaboration with Gabe Evens, Jack Helsley and Matt Young. He has performed at top-tier music venues and festivals nationwide including the Dakota Jazz Club, Snug Harbor, Scat Jazz Lounge, Next Generation Jazz Festival, and Eau Claire Jazz Festivals, and Iowa City Jazz Festival.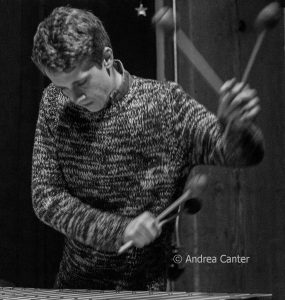 Levi Schwartzberg, now in his senior year at the University of Minnesota, is already a veteran of four-mallet vibes performance; he is also an accomplished pianist, performing on both instruments in the U of M Jazz Combo. A graduate of Southwest High School who participated for two years with the Dakota Combo, Levi has led his own ensembles at Jazz Central, Black Dog and Khyber Pass Cafe as well as performing with Adam Linz's Le Percheron, Steve Kenny, Will Kjeer, Charlie Lincoln, Davu Seru, and more.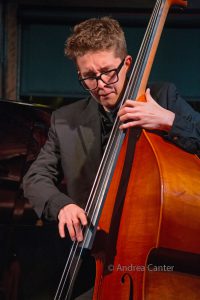 Bassist Charlie Lincoln is in his third year of jazz studies at the Berklee College of Music in Boston, where he recently joined Berklee's Global Jazz Institute, led by Danilo Perez. A South High alum, Charlie was already a busy gigging musician before graduation, playing with the Dakota Combo, Central Standard Time, the Charles Lincoln Group, and subbing with Eric Gravatt's Source Code. In his senior year, Charlie was selected as one of two winning youth songwriters in the Eric Stokes Songwriting Contest and was on stage for the Young Performers Showcase for the Zeitgeist New Music Cabaret. Charlie served as a curator for a monthly new music series at Jazz Central Studios in summer 2016, as well as performing with the Dave Brattain Trio during the 2016 Twin Cities Jazz Festival. This past summer, Charlie was part of a 5-week tour of Asia with a jazz ensemble of Berklee-connected musicians. He has recently performed in the Twin Cities with Hoaxer, No Exit, and Friends and Neighbors, among other bands.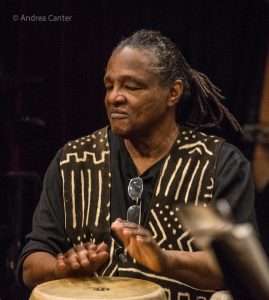 Babatunde Lea's vast experience of over 50 years as a master percussionist, along with the spiritual depth in everything he does, has made him one of the most esteemed musicians of the past half century. A New York native who was raised in Engelwood, NJ, Lea (given name Michael) started on drums at 11, and after seeing Babatunde Olatunji and his Drums of Passion, soon changed his own name to Babatunde. Absorbing the rhythms of Africa and the Caribbean, Lea moved west to the Bay Area at 18, and later to Richmond, VA. But perhaps the most influential connection was with Leon Thomas, with whom he worked in the early 70s. "Leon was not only the bandleader and one of my bosses," Lea explains, "but he was very instrumental to my artistic growth. He was a great influence on the type of music I like and the genre of music that I play." Back in the Bay Area, he worked with Stan Getz, Joe Henderson, McCoy Tyner, Randy Weston, Van Morrison and, particularly, Oscar Brown, Jr. In 2003, he co-founded Motema Records with Jana Herzen, recording four albums for the label including a tribute to Leon Thomas, Ubmo Weti (2009). In 2010, he moved to Pennsylvania to teach at Gettysburg College, moving again a year later when he finally landed in the Midwest, ultimately in the Twin Cities area. Here he has led his own ensembles as well as teaming up with Steve Kenny, Zacc Harris, and many others; he also is a well-respected educator who brings his talents and knowledge of African percussion to school children and adults.
Don't miss night #200 at the Black Dog!
The Black Dog is located at 308 Prince Street in the street level of the Northern Warehouse in St. Paul's Lowertown Arts District. $10 per set requested to support the musicians and series; tip jar tokens available. See www.saturdaynightjazzattheblackdog.info for weekly schedule as well as information about reservations and donor support. The Black Dog presents music nightly — visit www.blackdogstpaul.com