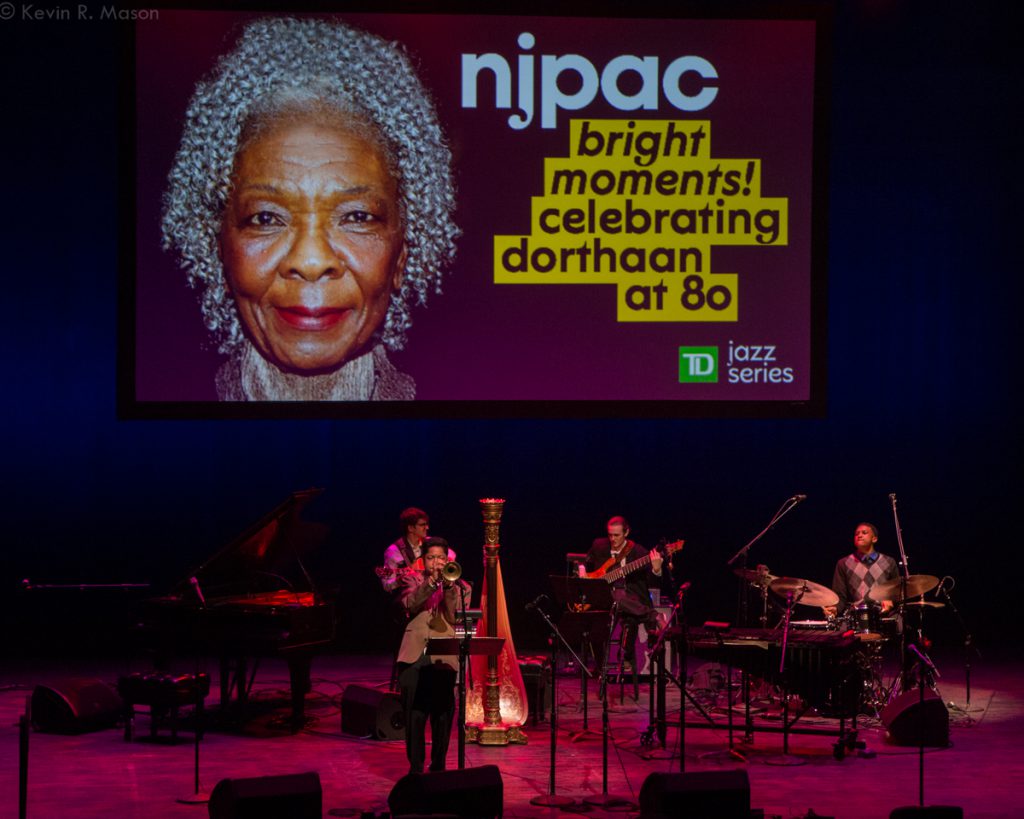 On Saturday April 28, New Jersey Performing Arts Center (NJPAC) presented a tribute and early 80th birthday present to Dorthaan Kirk, Newark's "First Lady of Jazz." Her actual birthday is July 13, but due to scheduling issues, this turned out to be the best date for everyone in the program. Ms. Kirk wears so many hats, it's amazing how she's able to handle it all. She was one of the original staff members at WBGO-FM 88.3 Jazz Radio, where she has worked for years as Director of Community Relations and Special Events, and as curator of art exhibitions at the station. She also manages the annual WBGO Jazz-a-thon, and she coordinates the WBGO Children's Jazz Series.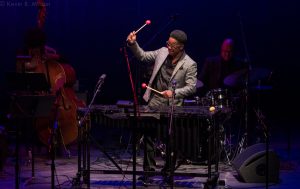 She is host and driving force behind Jazz Vespers, since January 2001, at Newark's Bethany Baptist Church. She also presents jazz brunches called Dorthaan's Place at NJPAC restaurant Nico Kitchen + Bar. She has led a jazz-filled life, which goes back to her marriage to the late, gifted multi-instrumentalist Rahsaan Roland Kirk. She managed his career until his untimely death in 1977. She has been the keeper of the flame of Rahsaan's musical legacy, and Dorthaan continues to manage her late husband's music, as administrator of his publishing company. Over the years, she has made connections and lifelong friends throughout the world of jazz.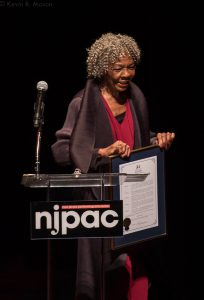 A few minutes before the concert started, the audience was treated to a retrospective photo montage of Dorthaan's extraordinary life, which included pictures of such jazz luminaries as Jimmy Heath, Wynton Marsalis, George Wein, Ron Carter, Tony Bennett, James Moody, and many more.
The George Wein Scholars Ensemble, a very talented group of young musicians, was introduced by NJPAC CEO John Schreiber, and they started the evening off in style. Then the mayor of Newark, the Honorable Ras Baraka, presented Dorthaan with a proclamation that praised her contributions to jazz. In response, she said some succinct but heartfelt words of thanks. The praise of Dorthaan continued when WBGO's Steve Robinson and Rhonda Hamilton spoke glowingly about her many achievements at the radio station.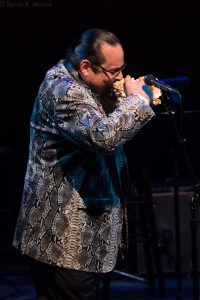 Saxophonist Don Braden served as Musical Director for the evening, and he was joined by trombonist/seashellist Steve Turre, who was a close collaborator of Rahsaan Roland Kirk, and who has done a lot over the years to keep Rahsaan's music alive. They were backed by pianist Oscar Perez, drummer Alvester Garnett, bassist Mimi Jones, and saxophonist Mark Gross.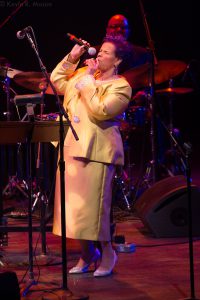 Vocalist Antoinette Montague emerged from the back of the house, singing down the aisle, as she led the crowd in a high-energy call-and-response number, "Let the Good times Roll." Antoinette obviously knows a good time when she sees one, and Stefon Harris lent stellar work on the vibraphone. Steve Turre performed Miles Davis' "Kind of Blue" on conch shells, in a unique rendition where he created different tones and sounds from different-sized shells. Sometimes, he impressively played two shells at a time, delighting and astonishing the audience. Then Steve introduced "Dorthaan's Walk" which the blind Rahsaan wrote, inspired by his ability to recognize the sound of people's walks, especially Dorthaan's.
WBGO founder Bob Ottenhoff spoke vividly of his long association with Dorthaan, and praised her work at WBGO over the years. He also talked about Dorthaan Kirk's Scholarship Opportunity Fund, which supports jazz students in the Newark area.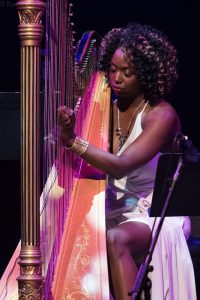 Rhonda Hamilton discussed a tradition of harps in jazz that has been dominated by women, and introduced harpist Brandee Younger, who played beautifully, with fine accompaniment by Don Braden.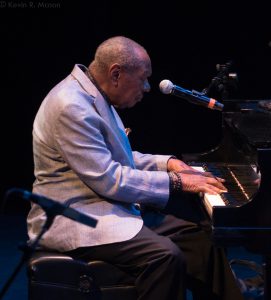 After a short intermission, Rhonda Hamilton introduced pianist/vocalist Freddy Cole, who received a rousing ovation when he played "Sometimes I'm Happy."  He followed up with the mellow charmer, "It's Crazy (But I'm in Love)," and ended his set with a sentimental version of "You and Me Against the World," where at one point, he got up from the piano and just sang his heart out.
Reverend M. William Howard, Jr., the former pastor of Bethany Baptist Church, and the founder, along with Dorthaan, of Jazz Vespers, described Kirk as a woman of faith, who has embraced faith beyond mere theology. He also spoke of her stewardship over the years, and her important work with Jazz Vespers.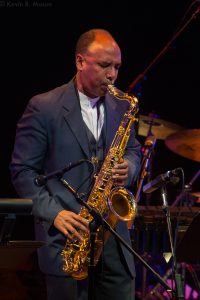 Don Braden returned to the stage and spoke lovingly about Dorthaan, and he proclaimed what an inspiration she is. Then Braden's house band turned up the heat on John Coltrane's "Resolution" which elicited a great response from the audience. The star-studded evening continued with singer Cassandra Wilson, who sang "Skylark" in her unmistakable deep, rich voice. She also performed "Throw it Away" and a swinging "Sweet Georgia Brown." Cassandra thanked Dorthaan for her "unconditional love."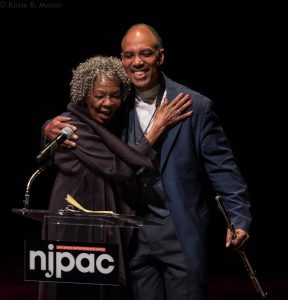 Ms. Kirk took the stage and thanked everyone for coming. "I'm overwhelmed with gratitude and joy." She acknowledged all the musicians and the behind-the-scenes people who contributed to the event. She mentioned Geri Allen as one of the musicians who was supposed to be there, before Geri's untimely passing last year. Dorthaan gave a special shout-out to Steve Turre, and thanked him for continuing to keep Rahsaan's music alive. She talked about her friendship with Cassandra Wilson, and how she's known her for a long time. When she revealed that she'll soon be leaving WBGO, the news was met with groans of dismay from the audience. However, she took some of the sting out of that news when she said that she'll still be involved with Jazz Vespers.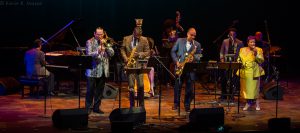 The evening ended with all the musicians playing "Bright Moments," a composition by Rahsaan Roland Kirk, from the tour-de-force 1973 live album of the same name. It was introduced by a recording of Mr. Kirk himself talking about life's bright moments, and that was a wonderful ending to a lovely night of music and a great tribute to one of the long-standing pillars of the jazz community, Dorthaan Kirk!