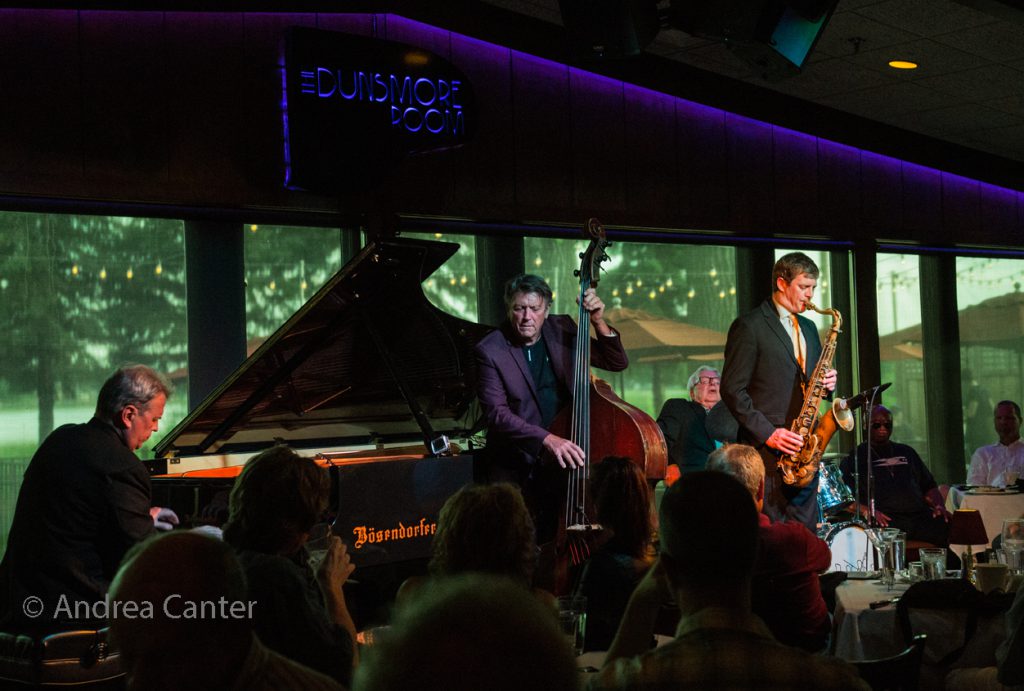 Some of the best "bebop burners" in the world are coming to Crooners in the next two weeks to present their inimitable music in the intimate Dunsmore Room. On June 19, trumpeter Jim Rotondi and pianist David Hazeltine join forces with local heroes Billy Peterson (bass) and Kenny Horst (drums); the next night, June 20, tenor sax titan Eric Alexander joins in. On June 27, the queen of bebop vocalese, Sheila Jordan, returns to the Dunsmore Room, joined by her frequent duo partner, bassist Cameron Brown. Adding to the festive June calendar, B-3 star Joey DeFrancesco takes over the larger lounge at Crooner's on June 26. Tickets for all shows are available for all performances at www.croonersloungemn.com or at 763-760-0062.
Rotondi-Hazeltine Quartet and Quintet (June 19-20, 7:30 pm)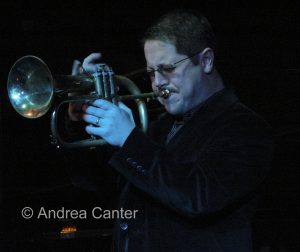 Trumpeter Jim Rotondi is a busy recording artist as well as touring performer. The Montana native initially enrolled at the University of Oregon but ended up spending his tuition money on records. Soon he switched to the jazz program at the University of North Texas and, in 1984, won the International Trumpet Guild's Jazz Trumpet Competition. After moving to New York, Jim toured with a long list of big bands (including Ray Charles, Lionel Hampton, Bob Mintzer and Toshiko Akiyoshi) and served as sideman for Charles Earland, Lou Donaldson, Curtis Fuller and Joe Chambers. As leader, he currenly heads a quintet with vibraphonist Joe Locke, an electronic ensemble Full House (with Davie Hazeltine), and is a founding member of One for All (with Hazeltine and Eric Alexander). He appears as both leader and sideman on a long list of acclaimed recordings. In addition to Alexander and Hazeltine, his frequent cohorts have included Rick Germanson, John Webber, Steve Nelson, and Bill Stewart. Jim currently resides in Graz, Austria, where he is Professor of Jazz Trumpet at the University of Music and Dramatic Arts, after performing and teaching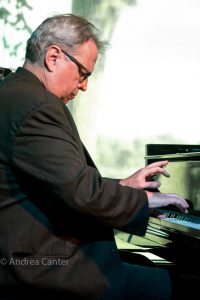 in New York for 25 years. Jim was a frequent guest artist at the Artist Quarter and was featured in 2016 at Jazz Central's winter jazz fest.
Noted for adventurous arrangements, rhythms, and harmonies, as well as swinging, melodic original compositions, New York pianist David Hazeltine brings both a reverence for tradition and a unique inventive spirit to the bandstand. And he's no stranger to the Twin Cities, having spent his childhood and early career in the Midwest, as well as appearing numerous times at the Artists Quarter and, more recently, in the Dunsmore Room. A native of Milwaukee, Dave played his first professional gig (on organ) at age 13 (weekends at a neighborhood Italian restaurant), switching to piano at 15.  During his college years, Dave became the house pianist at Milwaukee's Jazz Gallery, where his first gig was with the great tenor player Sonny Stitt, who became a mentor. Soon he was playing with such visiting legends as Charles McPherson, Eddie Harris, Pepper Adams, and Chet Baker. Expanding his horizons throughout the Midwest, Dave played venues in Chicago and the Twin Cities, as well as Milwaukee until permanently relocating to New York in the early 90s. Dave toured with Jon Hendricks, played with his own "Classic Trio" (drum legend Louis Hayes and bassist Peter Washington), and served as sideman for Freddie Hubbard, James Moody, the Faddis-Hampton Sextet, Slide Hampton Big Band, the Carnegie Hall Jazz Band, and Marlena Shaw, for whom he also served as arranger and musical director. He also appeared as the guest artist on Marian McPartland's Piano Jazz. Today, Hazeltine has two dozen recordings as leader to his credit, including a series with the collaborative ensemble, One for All, which includes Eric Alexander, Steve Davis, Jim Rotondi, Joe Locke, and Joe Farnsworth. This will be his third gig at the Dunsmore Room. And he's no stranger to the Steinway D–he served as Crooner's consultant before the club bought this revered piano.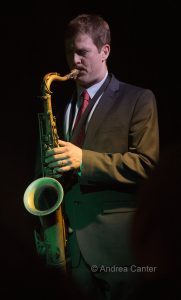 Over the past fifteen years or so, tenor saxman Eric Alexander has forged a reputation as one of the leading jazz voices of his generation. With an astounding 3 dozen+ recordings to his credit as leader and dozens more as sideman, the 2003 Jazz Week Musician of the Year keeps a busy schedule composing and performing.  Born in Galesburg, IL and raised in Olympia, Washington, Alexander first learned piano at age six, then clarinet at nine, and moved to alto sax at 12. With a strong classical background, Alexander became obsessed with jazz as a student at Indiana University and converted to tenor. Transferring to William Paterson College in New Jersey, he studied with Harold Mabern, Joe Lovano, and Rufus Reid. Settling in Chicago initially, Alexander impressed organist Charles Earland, with whom he made a number of trio recordings, including his debut as sideman, Unforgettable (1991, Muse). In 1991, Alexander placed second behind Joshua Redman in the Thelonious Monk International Saxophone Competition. He soon moved to New York, performing at The Blue Note, The Village Vanguard, Sweet Basil's, Small's, and The Iridium, appearing with Cecil Payne, Harold Mabern, Eddie Henderson, Larry Willis, Kenny Barron, Freddie Cole, Pat Martino, and Cedar Walton, among others. He went on to record with CrissCross and Alfa, and formed the hard bop sextet, One for All, with Jim Rotondi, Steve Davis, Joe Farnsworth, Peter Washington, and Dave Hazeltine.  These days, Eric continues to appear regularly at Smoke in Manhattan with One for All and tours with his quartet, featuring Harold Marbern on piano, Jon Webber or Nat Reeves on bass, and Joe Farnsworth on drums (Eric is in town June 19 with Harold Mabern's Quartet, appearing at Vieux Carre' in St Paul.) He's also been performing with the great Jimmy Cobb, Pat Martino, McCoy Tyner and the ensemble Chasin' the Trane.  For years, Eric was an almost-annual visitor at the Artists Quarter, and with David Hazeltine, performed on of the last touring artist gigs at the AQ before it closed at the end of  2013. He's previously appeared in the Dunsmore Room with David Hazeltine.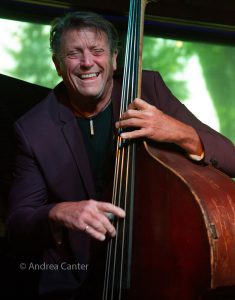 From Minnesota's "First Family of Music," bassist Billy Peterson sang in commercials with sister Linda at age 9 and played bass and drums in his father's ensembles while in junior high. He played in a variety of combos and big bands throughout his high school years, including a summer tour with the Righteous Brothers and a stint with the Lawrence Welk All-Stars. After graduation, Billy played three years with Billy Wallace (Clifford Brown's pianist) and co-founded the band Natural Life with saxman Bob Rockwell. He has recorded with Leo Kottke and performed or recorded with BB King, Johnny Smith, Lenny Breau, and the late Les Paul. Due to tour commitments, he passed on an invitation to join the Bill Evans Trio (Marc Johnson's good fortune!). In 1975, he appeared on Bob Dylan's acclaimed Blood on the Tracks, and a few years later began a long-standing collaboration with Ben Sidran, which led to his 20+ year association with the Steve Miller Band. Billy continues to tour with Bob Rockwell in Europe, records and tours with the Dave King Trio, and appears in the Twin Cities with The Peterson Family, How Birds Work, What Would Monk Do, and other ensembles.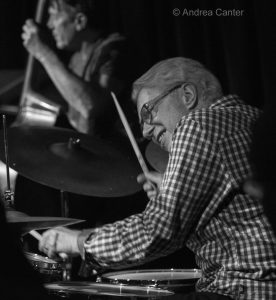 When Kenny Horst wasn't busy running the Artists' Quarter, he tended the drum kit with many of the AQ's visiting and local artists, and anchored the long-running Tuesday Night Band. He also performed regularly with How Birds Work, the Dean Granros Trio, and The Five. Says Don Berryman (Jazz Police), "Great hard-bop, soul jazz, and fusion chops and the sweetest guy you could meet." With the closing of the AQ in 2013, we've seen more of Kenny behind the trapset at such venues as Jazz Central Studios, The Nicollet, Icehouse, Lexington, and the Black Dog.
Sheila Jordan and Cameron Brown (June 27, 7:30 pm)
Charlie Parker often introduced jazz vocal pioneer Sheila Jordan as "the singer with the million dollar ears." And the New Yorker noted that Jordan has "absorbed bebop from the source, but she's also a committed modernist whose style has evolved with the ensuing decades." And that's a lot of  decades as Sheila Jordan is now 89 and still singing, teaching, and touring. Famous for performing with just a bassist, Sheila appeared in the Dunsmore Room last year with local stars Javi Santiago and Gordon Johnson. This time out, she brings along her long-time duo partner, bassist Cameron Brown.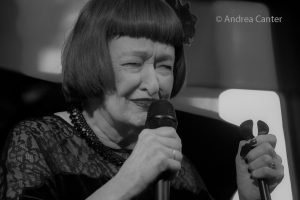 Born Sheila Jeanette Dawson in Detroit, Sheila was raised in the poverty of Pennsylvania's coal-mining country. She found her voice as a singer early in her childhood, noting that singing was a way to ward off pain. "I was very unhappy as a little kid," she told NPR's Eric Westervelt. "The way I got rid of that was to sing, so I was constantly singing." Sheila sang so much that she was working semi-professionally in Detroit clubs as a teenager. Yet her affinity for working with black musicians subjected her to serious racism as she worked to establish herself as a professional musician. Discovering the music of Charlie Parker set Sheila on an unwavering path through bebop, and she was forever influenced more heavily by instrumentalists than vocalists.  Her determination to hear Parker in person in a Detroit club, as a 14-year-old, was recounted in an interview for MPR:
You had to be 21 years old to get in there and I said, "Oh, I've got to hear my hero!" And I forged my mother's birth certificate and I dyed my hair blonde and I wore a hat with a veil and high-heeled shoes and I was smoking a Lucky Strike cigarette, unfiltered, and I was sure I was going to get in the door smoking my cigarette and going through the whole trip. And I got to the door and the man said, "No no no, you can't come in here. Hey, you better go home and do your homework, little white girl." And I was so disappointed. And then I went around in the alley and sat on the garbage cans. Now, Bird was by the door so he heard all of this. He went to the back door of that club and he stood there at one point and played. The door was open and I sat on the garbage cans and Charlie Parker played for me. And it was incredible.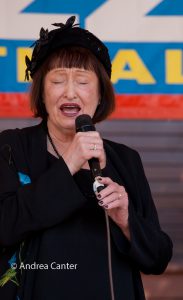 After moving to New York in the early 50s, she married Parker's pianist, Duke Jordan, and studied with Lennie Tristano, making her first recordings under her own name in the early 60s. She also recorded The Outer View with George Russell which included her famous 10-minute arrangement of "You Are My Sunshine." Sheila continued working in the 60s and 70s despite a lack of broad appeal — the vocal equivalent of bebop was slow to catch on with American jazz audiences. She began finding more success in the late 70s, appearing more often on recordings, including albums with pianist Steve Kuhn, and releasing Home, a selection of Robert Creeley's poems set to music and arranged by Steve Swallow. After sitting in with Charles Mingus on an impromptu bass-voice duet, Sheila began a long series of duo performances with bassists,  releasing Old Time Feeling in 1983 with Harvie Swartz (aka Harvie S). These albums reflected what are now recognized as Sheila Jordan signatures, such as her use of frequent and unexpected changes of pitch. Her trademark collaboration with bassists in duo format led to a long-standing relationship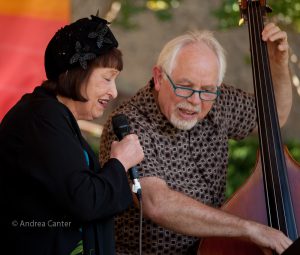 with Cameron Brown, with whom she still performs after two decades.
In addition to performing, Sheila gained a reputation as a talented educator, running workshops and teaching on college faculties throughout her career. Sheila was named an NEA Jazz Master for 2012, and is the subject of an insightful biography by Ellen Johnson, Jazz Child, published in 2014. Now 89, Sheila shows no signs of slowing down.
Bassist, composer and educator Cameron Brown first gained experience recording in Europe with George Russell and Don Cherry in the mid-60s. He went on to anchor some of the most important ensembles of the 70s-90s, and into the current century. Sheila Jordan, Roswell Rudd, Archie Shepp and Beaver Harris were his mentors and bandleaders; he also has enjoyed special relationships with master drummers Art Blakey, Dannie Richmond, Philly Joe Jones, Ed Blackwell, Eddie Moore, Idris Muhammad, Billy Hart, Joe Chambers, Lewis Nash and Matt Wilson. Brown enjoyed a nearly decade-long partnership with the Don Pullen/George Adams Quartet, featuring Dannie Richmond. He has also performed and recorded with Art Blakey's Jazz Messengers, George Russell, The Dewey Redman Quartet, and various ensembles led by Shepp, Cherry, Rudd, Richmond, and Joe Lovano. Brown is currently the faculty of the New School for Jazz and Contemporary Music.
Crooners Lounge and the Dunsmore Room is located at 6161 NE Highway 65 in Fridley, just a few minutes north of I-694 and about 20 minutes north of downtown Minneapolis. See calendar and ticket reservations at www.croonersloungemn.com.  Full dining room menu available.