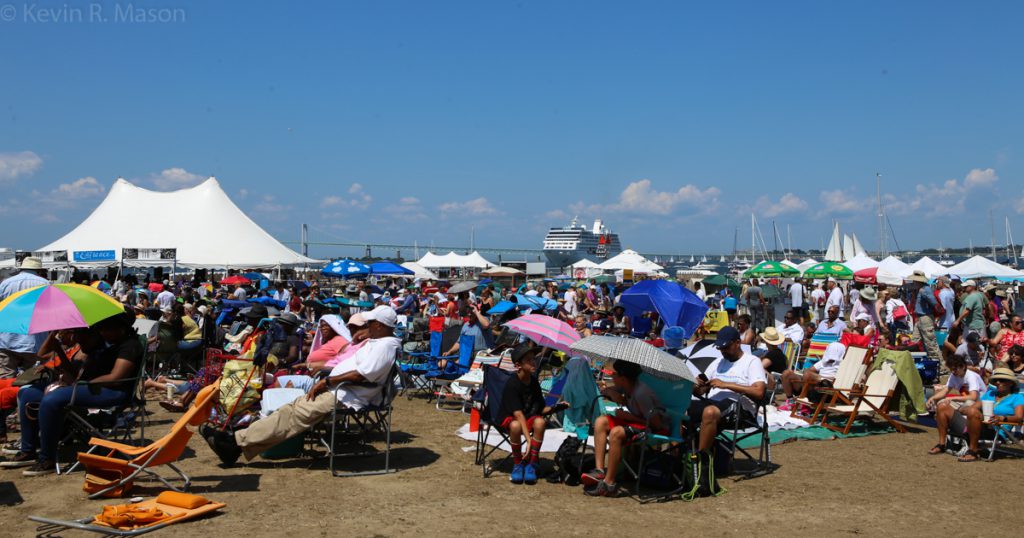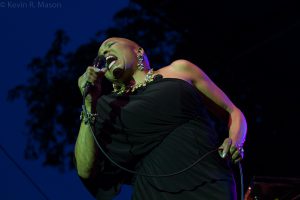 The Newport Jazz Festival, Presented by Natixis Investment Managers, is often called "The Granddaddy of Jazz Festivals," It was founded in 1954 by George Wein, Elaine Lorillard and Louis Lorillard, and is widely considered one of the most famous jazz festivals in the world.  Many of the biggest names in jazz have appeared there over the years, and numerous notable performances and recordings took place at the Festival. These include Miles Davis' solo on "Round Midnight in 1955, and the Duke Ellington Orchestra's performance of "Diminuendo and Crescendo in Blue" in 1956. The album Ella Fitzgerald and Billie Holiday at Newport was released in 1958. The 1960 film, Jazz on a Summer's Day is an acclaimed documentary about the 1958 Festival. The album Nina Simone at Newport was also released in 1960.  Two more albums came out about the 1965 Festival: New Thing at Newport, featuring Archie Shepp and John Coltrane; and Standing Ovation at Newport featured Herbie Mann and Chick Corea. In 1973, Newport Jazz Festival: Live at Carnegie Hall presented Ella Fitzgerald.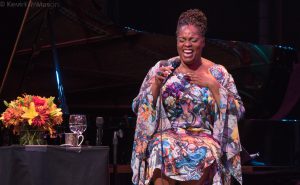 The 2019 Newport Jazz Festival, will be held from Friday, August 2 to Sunday, August 4. All the daytime concerts will be held at Fort Adams State Park, in Newport, Rhode Island. The line-up includes: Herbie Hancock; Dianne Reeves; Kamasi Washington; Thundercat; Lauren Sevian/Helen Sung Duo; Hancock/McBride/Colaiuta; The Bad Plus; Dee Dee Bridgewater and the Memphis Soulphony; Sun Ra Arkestra; The Ron Carter Trio; Gary Bartz: Another Earth 50 Year Celebration, Featuring Ravi Coltrane and Charles Tolliver; Makaya McKraven; Brandon Goldberg; Kandace Springs; Spanish Harlem Orchestra; Berklee Global Jazz Institute; The Royal Bopsters Featuring Sheila Jordan; Christian Sands, Darcy James Argue's Secret Society; Aaron Diehl; Common; Buika; Tia Fuller's "Diamond Cut"; Brandon Goldberg; Cécile McLorin Salvant; and Terence Blanchard featuring the E-   Collective, and more!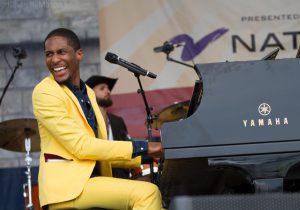 On Friday night at the International Tennis Hall of Fame, in downtown Newport, there will be a concert, Jon Batiste & Friends, featuring Corrine Bailey Rae, PJ Morton, ELEW, and Ethan Iverson.
George Wein Plays!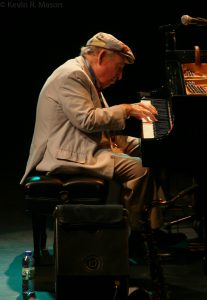 Jazz impresario George Wein is known all over the world as the co-founder of the Newport Jazz Festival, but his first love in music was playing the piano. As a pianist, Wein has played with many of the greatest musicians in the history of jazz. "It was an honor and a privilege to play with Buddy Rich and Gerry Mulligan, as well as jazz greats Doc Cheatham, Oliver Jackson, Slam Stewart, Warren Vaché, Scott Hamilton, Randy Brecker, Lew Tabackin and young stars including Esperanza Spalding and Anat Cohen," said Wein.
This year, Newport Festivals Foundation (NFF) will present George Wein in One More Once, a free Bridgefest concert. This concert will be a celebration of Wein's life as a musician and his love for the city of Newport, and it will take place on Thursday, August 1, 6:30 pm on the Quad Stage at Fort Adams State Park. Wein has invited Newport Jazz Festival Artistic Director Christian McBride to join him, along with the Newport Jazz Assembly Band: Ben Marcoux on tenor sax and clarinet, Joshua Bruneau on trumpet, Jimmy O'Connell on trombone, Keith Brown on piano, Alex Tremblay on bass, Tony Davis on guitar, and Mike Camacho on drums. NFF has presented the Newport Jazz Assembly Band in 65 concerts at public schools throughout Rhode Island.
George Wein had this to say about the concert: "As I approach my 94th birthday, with hearing and mobility making it difficult for me to perform on the stage as a jazz musician, I'm going to give it One More Once. I borrowed the title for the concert from my late friend Count Basie, who used to say this phrase whenever a fan would request an encore performance of "April in Paris." I haven't played in public for a few years, but the urge is always with me.  At my previous Newport concerts, people had to pay to attend the festival. Newport and the state of Rhode Island have been good to me, which is why I want to offer this evening free to the people who mean so much to me and to the city that changed my life forever."
Wein, who most recently performed at the Newport Jazz Festival in 2010 and 2012, said, "I'm looking forward to giving it One More Once with Christian McBride and the Jazz Assembly Band on August 1. It is fitting that I take my bow doing what I enjoy most in a city that I love dearly."
The free seating is limited, and although the Festival requested that people RSVP, the show is now sold out.
Pre-Concert Reception
At 5:30 pm, before the One More Once concert, Newport Festivals Foundation will host a pre-concert reception to raise funds for the Newport Festivals Museum.
There will be a limited number of $75.00 tickets (fully tax deductible) sold for a pre-concert reception at the Newport Festivals Museum at Fort Adams State Park where Jay Sweet, Newport Festivals Executive Producer, will give a brief talk on plans for the Museum.
Reception Guests holding these tickets will:
Enjoy a glass of wine/beer/soft drink and tasty hors d'oeuvres
Have a chance to say hello to George Wein and Christian McBride
Have a seat in a Reserved section for the evening's concert
Receive an advance copy of the Newport Jazz Festival program book.
The pre-concert reception has been graciously underwritten by the Kapoor Family.
George Wein's One More Once is a 2019 Bridgefest event. For more information on the annual celebration of music that takes place between the Folk and Jazz Festivals (July 29 – August 1), please visit www.newportbridgefest.com.
Newport Festivals Foundation Charitable Endeavors with Newport Schools
From a press release, the following information was announced:
Newport Festivals Foundation (NFF), which produces the Newport Folk Festival and the Newport Jazz Festival, has announced their commitment to support the music programs at all three public schools in the Newport School District. NFF will provide financial support to each school with the hope of ensuring every student in the district has access to quality music education. 
 "Our mission as a nonprofit is to expand the impact of our festivals through music education and that begins in our hometown of Newport," said Jay Sweet, Executive Producer of NFF. "This is not just a one off — this is a long-term commitment to the town. As long as our festivals call Newport home, we'll do what we can to ensure every public school student has access to outstanding music education." 
NFF has been working directly with the music teachers from Pell Elementary, Thompson Middle, and Rogers High School to identify their needs and establish how the funds will be used. At Pell, funds will be used to purchase a music software program designed to introduce elementary school kids to the basic principles of rhythm and melody. At Thompson, youth size KORG keyboards were purchased to help students learn piano. At Rogers, funds will be used to repair instruments.   
Diane Sheehan, Supervisor of the Arts at Newport Public Schools, expressed, "On behalf of the Music Department at Pell Elementary, Thompson Middle School and Rogers High School, we are extremely thankful for the exciting opportunity to obtain music software programs, electronic keyboards, and instrument repair for our music classes this coming school year. This type of community outreach and student engagement creates the spark that every child needs to connect and appreciate music throughout their lifetime. Newport Festivals Foundation is instilling an atmosphere of love of music and 'hands-on' musical synergy with their philanthropic generosity to Newport Public Schools. The Foundation will never know ALL the musical triumphs etched in every child attending our public school system and we can't thank them enough for their substantial support."
This initiative was made possible thanks to a contribution to NFF by Dennis and Beverlee Taber in honor of her grandfather, Ray G. Groff Sr., former Band Instructor at Rogers High School. Keyboards for Thompson Middle School were provided at a nonprofit rate by KORG Education. A portion of the funds raised from this year's Newport Folk Presents aftershows will be dedicated to supporting the program in the future. 
Newport Festivals Foundation fosters the legacy and expands the impact of its Festivals through educational initiatives that celebrate innovation while preserving the deep traditions inherent in Jazz and Folk music. The Foundation's goal is to offer opportunity, inspire through exposure and facilitate the collection of resources needed for musicians to celebrate and innovate. The focus on creating unique experiences to spark engagement is accomplished through a variety of initiatives, including instrument donations and performances at schools throughout Rhode Island, Massachusetts and Connecticut. 
For more information on Newport Festivals Foundation education initiatives and other activities, please visit:  www.newportfestivals.org.
General Information
 There are beer and wine gardens open from 12:00 noon to 6:30 pm each day of the NJF. There will be food vendors, and a large selection of artists and crafts vendors selling their wares. An official NJF merchandise station near the entrance will offer you the opportunity to get souvenirs and Festival gear.

For more information on the NJF line-up, tickets, packages, travel information, site rules, information on ADA Accessibility, and more, go to: www.newportjazz.org.