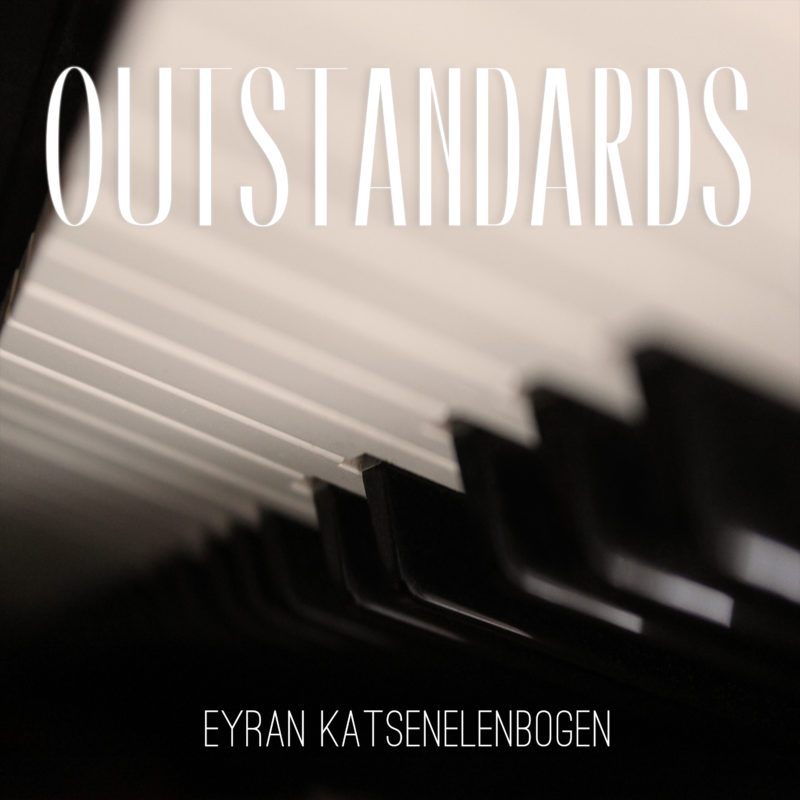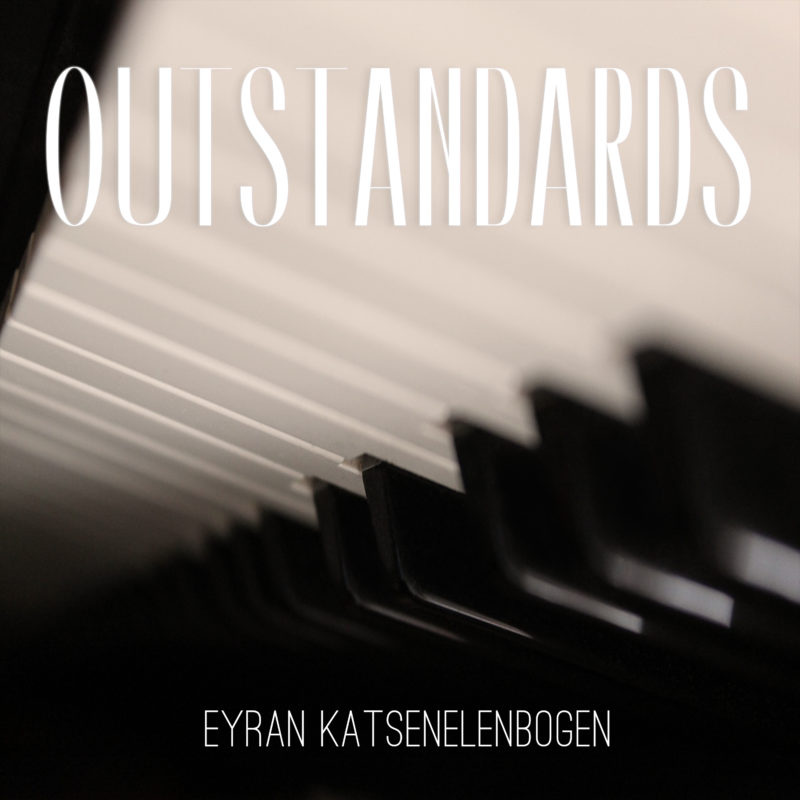 More than a decade ago, I had the pleasure of reviewing a solo recording by Israeli, Boston-based pianist Eyran Katsenelenbogen. At that time, Solotude (2005, Eyran Records) was already the pianist's eighth solo release; he went on to release another (88 Fingers, Eyran Records) in 2009. Over the past ten years, Eyran has continued teaching at the New England Conservatory of Music, has self-released a long list of singles reflecting his penchant for "jazzing up" classical works, and collaborated with classical pianists on duet tours of Europe, China and the U.S. Finally, Eyran is releasing another solo recording of his signature improvisations on jazz and classical standards, Outstandards (Eyran Records).
Eyran Katsenelenbogen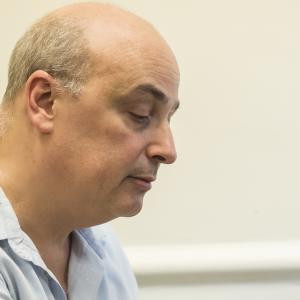 Eyran was born and raised in Israel, a distant relative of Felix Mendelssohn and Martin Buber. As a child he studied classical piano with Aida Barenboim (mother of Daniel Barenboim) and later Israeli master Menachem Wizenberg. In his mid-twenties, Eyran signed on to Jazziz Records, releasing Jazzonettes (1989) and One Time (1992), which prompted Jazz Journal International to describe him as "an emerging talent to watch." The success of these recordings led to scholarships to attend the New England Conservatory of Music, where he studied with pianists Ran Blake, Paul Bley, and Fred Hersch, and collaborated with Danilo Perez, George Russell, Jimmy Heath, Gunther Schuller and more. Following his graduation, he joined the NEC's Preparatory School and School of Continuing Education program, where he continues to teach today.
The recipient of the ASCAP Plus Award for the years 2002-06,  Eyran has developed innovative techniques of teaching contemporary music performance to children with special needs. In particular, his work with student Matthew Savage was featured on ABC's 20/20, NBC's Today Show and the Discovery Channel, and endorsed by the Autism Society of America. (Eyran helped launch Savage's recording career with their CD One is Not Fun, But 20 Is Plenty, released when Savage was seven years old.)
While Eyran's solo improvisations have earned high praise from artists such as Paul Bley and from international jazz journals, including Jazz Hot (Paris), Cadence (New York), and Jazz Journal International (London), his duo projects have also garnered considerable attention:  In 2008, Eyran collaborated with Russian classical pianist Andrei Ivanovitch on Pictures At An Exhibition: Classical Meets Jazz. Following performances in Germany and Russia, their American premiere took place at Jordan Hall in Boston in 2009, and  they released the performance on DVD the following year. In 2014, Katsenelenbogen and fellow pianist Tal Zilber toured China with "Piano Fight," performing at the nation's major venues; Eyran returned to China alone in 2015 for a 15-concert tour titled Jazz and Classical Highlights China Solo Tour, dedicated to his mother, Pnina Katsenelenbogen.
While Outstandards continues Eyran's solo piano discography, showcasing his broad musicianship, scholarship and creative arranging, he also notes the importance of his collaborations: "Working as a solo artist has many advantages. It makes producing concerts easier and allows great artistic freedom and control of my career. However, my collaborations with fellow musicians, primarily with classical pianists, have created wonderful professional opportunities that would have never been possible had I only played solo. More so, playing with other musicians has profoundly affected the development of my own musicianship."
Outstandards (Eyran Records, 2019)
There is no better introduction to Outstandards than Eyran's own words:
"There is a defining moment when art stops being the work of an artist and returns to the world's domain. Like any mother who is sending her child to the kindergarten for the first time, I am sure that many artists wish they could keep their art for themselves forever. But the only joy that could match art making is art sharing. Art is nothing without a community, like language is meaningless if there is no one to speak it with. Art is a conversation between an artist and an audience, in which both sides strive to be enlightened."  Following multiple performances and two recording sessions about 18 months apart, "post production work on the album began. Great attention was given to sound optimization and to cleaning unnatural noises. During that process, I spent many hours listening to the recordings of well-known jazz and classical pianists and learned so much about the art of the sound of piano. One video clip that I especially remember from that time was a comparison of ten different pianists playing Bach's 'Prelude in C minor" from his Well-Tempered Clavier (Vol.I). It is fascinating to hear how different is not only the interpretation but also the sound aesthetics presented in recordings by pianists such as Gould…and Richter."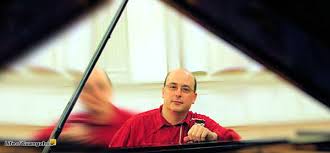 Reviewers have often compared Eyran's amazing virtuosity to that of Art Tatum, "not only stylistically but technically as well. He has the same complete command of the keyboard, unerring sense of rhythm, and improvisational inventiveness…" (Dave Nathan, All Music Guide). Yet his live performances and recordings have revealed influences as diverse as Gershwin, Monk, Jarrett, Debussy, Bartok, Bach, and Joplin, and Outstandards perhaps most clearly documents that Eyran draws from the entire history of piano performance, across genres. Of his talent, Eyran himself has noted that, "Musical virtuosity is not the ability to play something fast, but to learn it slowly."
Listening to the 14 wide-ranging tracks of Outstandards, it seems evident that Eyran has not only learned this music in depth, but is able to present it at whatever tempo he chooses–which at times is faster than most mortal ears can process! Outstandards is not acoustic wallpaper; and despite the range of moods (from the opening swell of Piazzolla's "Libertango" to the elegance of Rachmaninoff's "Prelude in C-Sharp Minor" to  the harmonious extravagance of Jobim's "No More Blues"), our ears never relax, constantly prodded by Eyran's frequent, often furious shifts in speed and color, and his ability to elicit the heights and depths of emotional response, often within the space of a few notes.
The set list itself is a marvel of a musical buffet from classical (Bach, Mozart, Beethoven, Brahms) to jazz (Berlin, Youmans, Lacey, Jobim), even adding more pop-oriented standards (Legrand's dark "Windmills of Your Mind"). Nevertheless, Eyran manages to give us an hour of cohesive soundscapes, where the frenzy of Corea ("Armando's Rhumba") parallels a mad dash through Beethoven's "Fur Elise," where a stride-like jaunt through Mozart's familiar "Sonata No. 16" is as lively as "Tea for Two," where the intimate, dark majesty of Rachmaninoff ("Prelude in C-Sharp Minor") is mirrored in the painfully lovely reading of Jobim's "Insensatez." Along the way one has to remember that only two hands, one mind are at work here, as so often the thickness of harmonies, the velocity of runs, the sheer range of notes conjures four hands on two instruments. Eyran may be most remarkable when he is blitzing through arrangements that surely set land speed records (such as his opening "Libertango" that suggests a Latin "Minute Waltz" or his tear through "Cheek to Cheek"), but he also excels when he slows down for Rachmaninoff and, particularly, when he transforms what might otherwise be an excess of notes into harp-like lyricism (Steve Lacey's "Theme for Ernie").
I have personally witnessed Eyran's sleight-of-hands on the piano, when a visit to Boston a decade ago provided an opportunity to meet the artist and an unforgettable treat of a private performance in a Jordan Hall practice room. His dexterity is incomparable at any speed, but most significant is his ability to tap into the emotional breadth of a tune–at any speed. And the fact that, as on Outstandards, Eyran can arrange the most well known classical themes as stride or bebop without losing their essence further defines the term "virtuoso."
Outstandards will officially release on December 5, 2019. More information including link to Eyran Records at www.eyran.com