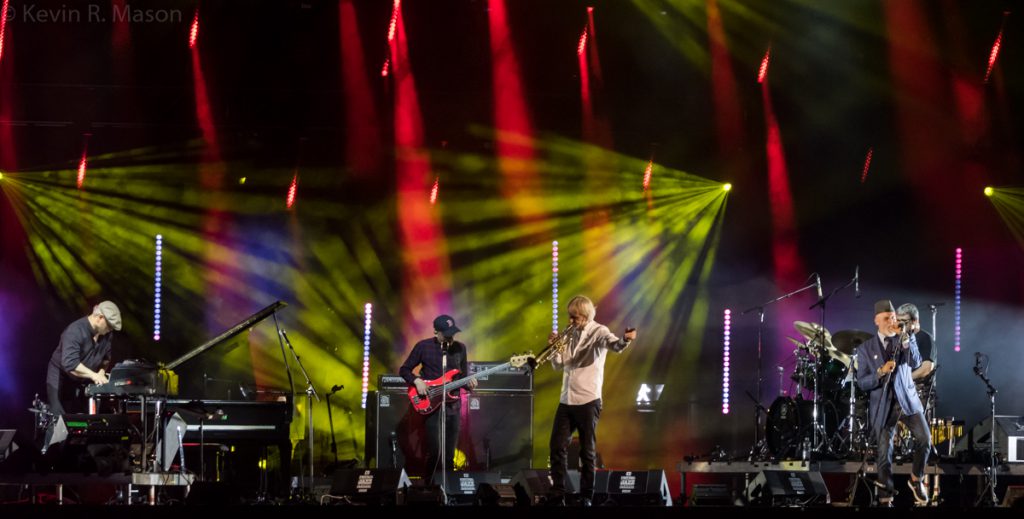 The 2019 Montreal Jazz Festival, officially called Le Festival International de Jazz de Montréal, took place from June 27 to July 6. It's a landmark year for the Festival, as this is its 40th anniversary.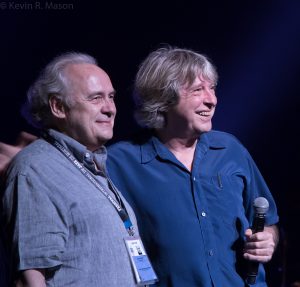 Forty years ago, André Ménard and Alain Simard, both influenced by the jazz clubs in the city, and music from around the world that was featured at Expo 67, created Le Festival International de Jazz de Montréal. Over the years, they've presented some of the biggest names in music, and the Festival has become one of the largest and best-known music festivals in the world.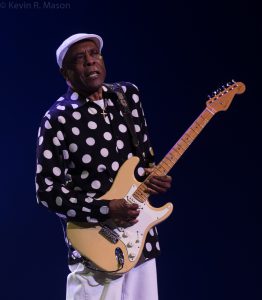 Notable concerts this year included Jacob Collier, John Pizzarelli, PJ Morton, Rodrigo & Gabriela, Donnie McCaslin, Vijay Iyer & Craig Taborn, Brad Mehldau, Sheila Jordan, Tord Gustavsen, Alan Parsons, Nikki Yanofsky, Ravi Coltrane, Stacey Kent, George Benson, Kurt Elling & Danilo Pérez, Keyon Harrold, Pink Martini, Christian Scott aTunde Adujah, Colin James, and Buddy Guy, who won the B.B. King Award, in recognition of an artist who has left an indelible mark on the blues scene.
Great free outdoor shows included Charlotte Cardin, Nick Murphy fka Chet Faker, Matt Holubowski, the Erik Truffaz Quartet featuring NYA, Jordan Officer, Dawn Tyler Watson, Cha Wa, and the Blues Camp kids (whose concert was the culmination of a week of intensive study).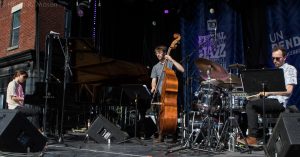 This year, the Festival expanded to the borough of Verdun. In the program, it says the following: "In addition to its central site in the Quartier de Spectacles, the Festival is transporting the party to new points elsewhere in the city to offer those audiences an equally wonderful, diverse, and free program…Over the next few years… new sites will be established in the four corners of our city to make music accessible to more and more Montréalers and tourists."
Omara Portuondo – One Last Kiss Tour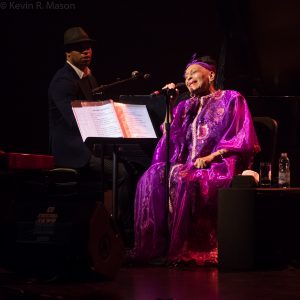 Singer Omara Portuondo is part of the legendary Buena Vista Social Club, and one of the founding members of the popular vocal group, Cuarteto D'Aida. A noted figure in the Cuban music scene for decades, she's doing a farewell tour. She received the Antônio Carlos Jobim Award, which was given to her by Festival co-founders André Ménard and Alain Simard. This award recognizes Portuondo's outstanding contributions to world music and her influence on the evolution of jazz. Omara, dressed in a beautiful sparkling ensemble, accepted the prize with grace and enthusiasm.  Accompanied by Roberto Fonseca on piano, Andres Coayo on percussion, Ruly Herrera on drums, and Yandy Martinez on bass, at 88 years old, Omara sang with the verve and passion of a woman half her age, performing up tempo songs, as well as touching ballads. It was a real Latin-infused party! At one point, Roberto Fonseca escorted Omara off stage, and in her absence, the band performed a sultry "Quizás, Quizás, Quizás" ("Perhaps, Perhaps, Perhaps"). Portuondo returned for a delicious rendition of "Guantanamera." In a great comic bit, she kept the song going for several choruses of an audience sing-along, despite Fonseca's obvious desire to move along. While encouraging the crowd to continue, she stuck her tongue out at Fonseca. When the song finally ended, Roberto exaggeratedly and hilariously turned the sheet music on Omara's stand.  Fonseca announced a surprise and brought on the world-renowned pianist/composer/arranger Chucho Valdés. The crowd went wild! Fonseca graciously stepped aside and let Chuco play the last song with Omara, a beautiful duet of "Besame Mucho." The audience gave an extended standing ovation for the excellent concert.
Cyrille Aimée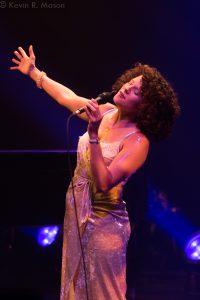 French-Dominican chanteuse Cyrille Aimée performed songs by legendary Broadway composer Stephen Sondheim from her CD, Move On: A Sondheim Adventure. Glamorously clad in beige crushed velvet, Cyrille started with "Losing My Mind," where she cunningly scatted. She received stellar support from pianist Adrean Ferrugia and bassist Philip Kuehn, and she continued her set with "Take Me to the World." She told the crowd, "J'adore Le Festival International de Jazz de Montréal! (I love the Festival!). The set included "They Ask Me Why I Believe in You," "So Many People," and a lovely Latin-tinged version of "Being Alive." At one point, Cyrille took the stage alone with just a looping device that recorded, added background vocals, drums, and other music, and her artistry with the device was extraordinary. From the musical Sunday in the Park with George, she performed "Move On." Ms. Aimée displayed considerable charm, wit, humor, and stage presence, in addition to her enchanting vocals, making her show a real thing of beauty.
Chucho Valdés – Jazz Batá
Opening Act: The Edmar Castañeda Trio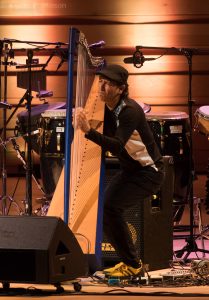 Edmar Castañeda started the show with an impressive harp solo, then was joined by saxophonist Shlomi Cohen and drummer/percussionist Dave Silliman on a minor key, yet often lighthearted and whimsical song. Edmar's formidable skills on the harp were on full display, and his musical companions were in perfect harmony. When the audience reacted with great enthusiasm, Edmar said, "Wow, what energy you guys have! It is so great to be here!" The next song was composed for the late, great Jaco Pastorius, whose playing was an inspiration to Castañeda. The song was titled "For Jaco," and it was a beautifully energetic number with wonderful solos by all three musicians. Edmar even managed to make his harp sound like a bass; that's how talented he is on his instrument. Edmar then showed his spiritual side, saying, "I pray for all of you that you leave this place full of blessings. I wrote this song for the one who gave me this gift, who gave me everything in life." The song was "Jesus of Nazareth," and it was gorgeously somber, a true homage to Jesus, played by Castañeda as a solo. As a special surprise, Edmar brought his wife Andrea on stage. They first met in New York, and got married 20 days later! She said, "Thank you for being so warm and kind to my husband and his music. God bless this beautiful country!" She exquisitely sang a percussive number with stand-out solos by Shlomi and Edmar. The group received a standing ovation for a show so good, it could have stood alone, not just as an opening act.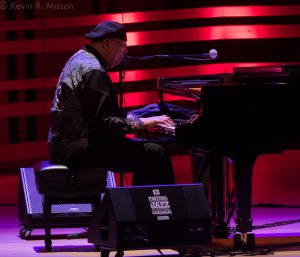 Renowned pianist Chucho Valdés came out to a thunderous welcome, and he gave the audience an appreciative bow. He was accompanied by percussionist Yaroldy Abreu Robles and bassist Ramon Vazquez. Chucho did not announce most of the songs in the set, and there wasn't much conversation, but the music spoke very clearly and impressively. The concert included a hauntingly romantic "My Foolish Heart" that segued into "People," and again segued into "But Not For Me," and it was a tour de force. Other songs were "Bolero" and "Caridad Amaro." The show had almost everything: red-hot rhythms, introspective ballads, joyful dance numbers, with some straight-ahead jazz thrown in for good measure, along with some classical riffs, all brought to vivid life by Chucho Valdés and his talented band! The group received such an explosive standing ovation, that they returned to perform a dazzling encore.
Melody Gardot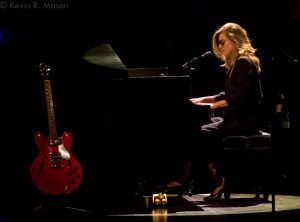 For those who don't know Melody Gardot's incredible backstory, at 19, she survived a horrific car accident, where she was riding a bicycle and struck by an SUV. She sustained serious injuries and was hospitalized for a year. Music therapy helped her to heal, and she recovered to have an amazing career. André Ménard presented the Ella Fitzgerald Award to Gardot on stage, in recognition of a singer of significant talent, who has had major influence on the international music scene. Backed by a big band that included a strong string section, Gardot's show began with a beautiful introspective number. Then she wished the audience a great Festival and said things wouldn't be the same without André Ménard. The singer/pianist continued with "Goodbye," and she displayed an impressive vocal range, performing multi-octave leaps. Gardot is an intimate storyteller, and at one point, she accompanied herself on guitar, quite beautifully. She said, "I can't tell you how thrilled we are to be here!"  The set concluded with a unique version of "Over the Rainbow" that was enthusiastically received by the crowd, judging from the length of the applause.
Makaya McCraven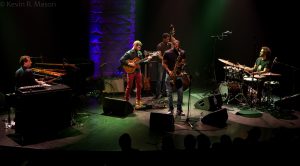 Drummer Makaya McCraven was joined by pianist Greg Spero, guitarist Matt Gold, saxophonist Irvin Pierce, and bassist Jeremiah Hunt. McCraven welcomed the crowd and introduced the band, then started the set with a song titled "Young Genius" from his latest CD, Universal Beings, and it was a moody, atmospheric gem. The second song, "Atlantic Black," had a driving beat, and excellent solos. Next came "The Hungarian Ballad." Makaya said, "It is truly an honor to be here at this legendary Festival, celebrating its 40th year! That's older than me!" The show continued with "A New Movement." McCraven said they're all from Chicago, and are like brothers now, especially after the rigors of the road. They played "The Bounce" from the CD, Where We Come From, and there was a smooth, cohesive interplay between the band members. That close bond Makaya spoke about showed clearly in their music. For the encore, Makaya and his crew really blew the roof off the Gesù concert venue.
Dianne Reeves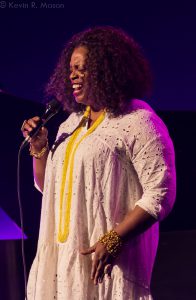 Dianne Reeves, one of the world's greatest jazz vocalists, has been a regular at the Festival over the years, and she honored Montréal with her presence again this year. Before she came on stage, her top-notch band, bassist Reginald Veal, drummer Terreon Gully, pianist Peter Martin, and guitarist Romero Lubambo, performed a song, displaying their outstanding musical skills. Then, Dianne entered and started on a high note with "You Will Know." Then she sang a welcome to the audience, followed by a musical rendition of her trip to Montréal, braving airplane turbulence and her lost luggage. She did it with style, humor, and wonderful musicality. She talked about an album she recorded years ago, Bridges, which her late cousin, George Duke, produced. She said the song, "I Remember" was originally dedicated to her father, who she lost very young, and now the song is dedicated to all the loved ones who are now gone. She added that the title Bridges is now symbolically meant to build bridges, not walls, which the audience strongly applauded. Reeves and Romero Lubambo just returned from Brazil, and she considers him her "brother from another mother." They played "Bridges" as a spectacular duet. Reeves discussed how much Milton Nascimento's voice moved her, then magnificently sang one of his songs in Portuguese. She recalled hearing Celia Cruz years ago. Although she didn't understand the words, she felt like Celia was singing to her. Dianne sang her signature introduction of her band, making it so personal, that you could feel her close connection with the musicians. She gave a shout-out to André Ménard, wishing him a great next chapter, and thanking him for all the love and respect that he's given to musicians. The final song, "You Taught My Heart to Sing," was composed by the man she calls "an architect of jazz," the great McCoy Tyner. She loves to end her shows with this song, because it tells how the group feels about their audiences.
The Joshua Redman Quartet with Aaron Goldberg, Reuben Rogers, and Gregory Hutchinson
Opening Act: Alex LeFaivre Quartet
The Alex LeFaivre Quartet were nominated this year for the TD Grand Jazz Award, which acknowledges future stars of Canadian jazz. This is a very promising group, comprised of bassist Alex LeFaivre, saxophonist Erik Hove, guitarist Nicolas Ferron, and drummer Mark Nelson. They were an excellent opening act for Joshua Redman, performing music from their CD, YUL.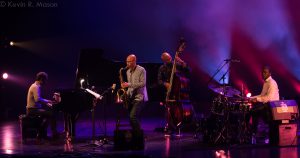 At the beginning of his set, Joshua Redman was presented with the Miles Davis Award by André Ménard. Joshua reacted to the heaviness of the award, saying, "Wow. How am I going to get this home?" He said it was a tremendous honor to receive the award, mentioning past recipients and how wonderful it was to be in their company. He said he was particularly honored to receive the award from André Ménard. "I didn't know it was possible to have a Festival without André. There's no Festival like this one." He dedicated the award to his father, the late saxophonist Dewey Redman, who first brought him to the Festival. Joshua said the Festival spoiled him, because he thought all festivals would be like Montréal, but they aren't. Redman started his set with an exceptional solo that had the audience riveted, and he was joined by pianist Aaron Goldberg, bassist Reuben Rogers, and drummer Gregory Hutchinson. The concert included songs from the group's latest CD, Come What May, including the title song, "Circle of Life," and "How We Do." They also performed Charlie Parker's "Chi Chi." This group has been together for over 20 years, and Come What May is their third recording. Redman stated, "As great as people like Miles Davis and John Coltrane were, much of their genius came from surrounding themselves with outstanding musicians. I would be nowhere without these guys." The show continued with "Stacker Bear," which was inspired by a surreal dream Joshua had. Then they played a stunningly gorgeous rendition of "Skylark."  This show was a display of consummate professionals at the top of their game, and it was one of the highlights of the Festival!
Christine Jensen's New York Quartet with Allison Miller, Helen Sung, and Noriko Ueda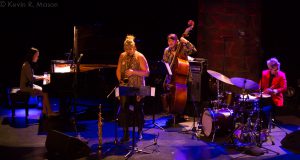 This all-female quartet dazzled the crowd with their virtuosity. The group, Christine Jensen on saxophone, Allison Miller on drums, pianist Helen Sung, and bassist Noriko Udeda, started with Noriko's "Uneven Pieces." Next was a composition by Christine about sailing and growing up on the West Coast of Canada. They followed up with "Slow Jam" by Allison Miller, and Christine's "Margareta," about bicycling in Sweden, and Jensen's "Garden Hour." Helen Sung's composition, "In the Shadowland" was based on one of her favorite books, The Lion, The Witch, and The Wardrobe, and "H-Town" was an ode to Helen's hometown, Houston, Texas.  Next came Allison Miller's "Congratulations and Condolences." Christine Jensen thanked André Ménard and the entire Festival team for "the amazing job they do, pulling together the Festival." She added that this is the best Festival, "and she's been to a few!" For their encore, they had to perform the standard, "How Deep is the Ocean," because they'd run out of their own compositions that they'd rehearsed! This was an excellent and very personal show, where everyone got a chance to shine.
40 Years of Stories with André Ménard, Alain Simard, & The Lorraine Desmarais Band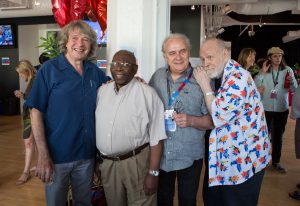 This presentation was a live broadcast on WBGO Radio from the L'Astral venue. Journalist and WBGO on-air host Michael Bourne introduced André Ménard and Alain Simard, co-founders of Le Festival International de Jazz de Montréal. Like the Festival, WBGO Radio is also celebrating their 40th anniversary, so it was a celebration from every perspective. Since André Ménard and Alain Simard are officially retiring this year, Michael Bourne presented them with lifetime Festival passes. Alain and André said they started the Festival with the best musicians that they could get to come to Montréal. Then, Bourne introduced pianist Lorraine Desmarais, who was joined by drummer Camil Bélisle and bassist Frédéric Alarie on "Hymn to Freedom," which pianists Oscar Peterson and Oliver Jones often played as a duet at the end of their shows. It was a moving tribute to the piano giants. They discussed the new Oliver Jones Award, which recognizes up-and-coming musicians from a visible minority group, since Jones has mentored so many young artists.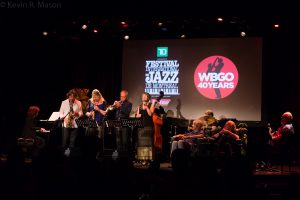 They spoke of the countless stellar performers who've appeared at the Festival over the years. André Ménard said he was once frustrated that Ray Charles always played basically the same show, but he recognized that Ray was a legend. Bourne asked about difficult artists, and Ménard talked about bassist Charlie Haden, describing him as "a real doll" and very creative, but also one of the most demanding musicians ever. They always gave him a room that could be upgraded, because they knew he'd complain. Saxophonist Christine Jensen joined the band on Charlie Haden's "Spanish Love Song." Lorraine introduced vocalist Sonia Johnson, and they performed a sultry "Peel Me a Grape." The panel then discussed how instrumental the Festival was in the development of the careers of Diana Krall, Pat Metheny, and others. Then, trumpeter Ron Di Lauro took the stage with the group and brilliantly played a touching ballad. Dave Brubeck had an open invitation to the Festival, and Michael Bourne spoke about Brubeck visiting Istanbul and hearing some street musicians whose unusual rhythms inspired him to compose "Blue Rondo a la Turk." Saxophonist Jean-Pierre Zanella came on stage to play Brubeck's song, and the group really went to town! Next, singer Holly Cole came out to sing an evocative rendition of "Bali Ha'i." Cole followed up with "I Can See Clearly Now," which was a special request from André Ménard, who said that Holly Cole was another artist who had blossomed over the years at the Festival. None of the guest stars had been announced, so it was an extra treat for the audience to see so many gifted artists at one show. Alain talked about Stevie Wonder's big Festival-opening outdoor show in 2009, where Stevie notably played the jazz classic, "Giant Steps," and how Stevie was very emotional because it was just days after the death of his friend Michael Jackson. Simard noted that many Cuban artists who could not play in the US, were able to perform at the Festival. Ménard said that Tony Bennett is the nicest person, and even when he had a real career resurgence, he remained the same down-to-earth person. Bennett, in turn, has been quoted as saying that he loves coming to Montréal, because they treat the artists so wonderfully. Then, Christine Jensen, Jean-Pierre Zanella, Ron DiLauro, and Sonia Johnson all returned to the stage for a grand finale, "Fly Me to the Moon." For an encore, they performed Leonard Cohen's "Dance Me to the End of Love," and encouraged the audience to sing along. It was really quite a night!
Peter Frampton Finale – The Farewell Tour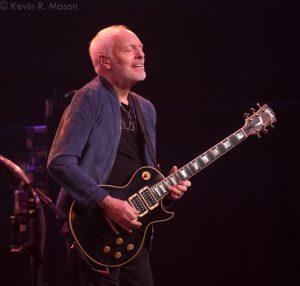 Before his concert, singer/guitarist/songwriter Peter Frampton held a press conference. He talked about his Farewell Tour, which was prompted by his diagnosis of a degenerative muscle disease called Inclusion Body Myositis (I.B.M.), which causes muscles to weaken over time. He said he must be realistic, that time is of the essence, and at some point, he might not be able to play anymore. He said, "I would never want to stop playing; it is my joy to be on stage…I have a ticking clock…I want to play as much as I can."  He talked about the influence Django Reinhardt had on him, and he noted that the music industry has changed in recent years. He noted that today you must have a huge number of Twitter or Instagram followers, and some people are better at social media than they are at music. Of the Festival, he said, "It's an honor to be here for the 40th anniversary. I have a lot of respect for the people who run this."
Later, at the packed Wilfrid Pelletier venue, Peter Frampton's show started with a video montage of highlights of his career. His set started with a rocking "Signed, Sealed, Delivered". He spoke a few words of French, joking that after studying French in school, he's forgotten most of it. He talked about his time with Humble Pie, and played "Lines On My Face." He was backed by drummer Dan Wojciechowski, keyboardist Rob Arthur,­­­­­­­­ bass guitarist Steve Mackey, and guitarist Adam Lester. Frampton recently toured with guitarist Steve Miller, playing a lot of blues. After that tour, Frampton recorded the CD All Blues, which went to #1 on the Billboard Blues Chart, and he performed the title song. He followed with "Georgia On My Mind." He said he wasn't going to try to compete with Ray Charles' version, so he did an expressive instrumental rendition. The concert also included "All I Wanna Be (Is By Your Side)" "Do you Feel Like We Do," "Fig Tree Bay," and his hit, "Baby I Love Your Way." Between songs, Peter told several entertaining anecdotes. There were spectacular light displays, along with all the great music, so the show was a feast for all the senses.  Frampton did three encores – "I Want You to Love Me," "I Don't Need No Doctor," and "While My Guitar Gently Weeps." The effects of Frampton's disease aren't yet evident; his guitar playing is as electrifying as ever, and his vocals are very strong. Since the announcement about his health, he's been inundated with well-wishes, advice, and love, and he thanked everyone for that. He's facing his uncertain future with courage, determination, and grace. He is not going gently into that good night.
Wray Downes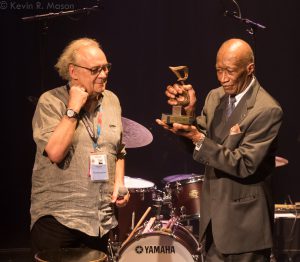 At a press conference, pianist Wray Downes received the Oscar Peterson Award, which is given in recognition of exceptional contributions to Canadian jazz. Wray said that he's very shy, and in fact, he has often had other musicians in his groups do the song announcements. Despite that, he was very articulate. He discussed having good and bad nights on stage, and how sometimes people react quite the opposite of what he expects. He said that one bad song can sink an evening in the eyes of the audience, which he doesn't think is fair. He talked about Oscar Peterson, who once told him, "Don't play me, play you," which helped him to find his own musical voice. He mentioned Toronto impresario/musician Bill King, and he said that jazz would die without people like him, who share knowledge and provide opportunities. He prefers working in clubs to arenas, because clubs are more intimate and relaxed. Despite his long career, he still considers himself a student, and he still learns from the students he teaches.
At Wray's concert later, André Ménard introduced Downes with effusive praise. Wray said, "I thank all those who helped me get to this point. I'd especially like to thank Oscar Peterson, who was my mentor and my friend." The show started with two Oscar Peterson compositions, and Wray was backed by bassist Adrian Vedady and drummer Jim Doxas. It was a wonderfully laid-back concert, and a nice respite from 10 hectic days of music, as wonderful as it all was. The show included "Open Spaces," "Jaden" (for his grandson), "Inside a Silent Tear," and "It Don't Mean a Thing, If It Ain't Got That Swing." At 88, Wray Downes still plays with great dexterity and assurance.
Leslie Odom, Jr.
Opening Act: Dominique Fils-Aimé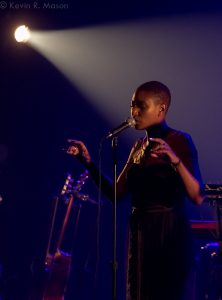 Dominique Fils-Aimé welcomed the crowd and said it was beautiful that they were there. She started with a haunting ballad, then segued into Billie Holiday's "Strange Fruit." She has a smoky, sultry voice, with a touch of a growl that she uses to great effect. She followed with an outstanding version of Nina Simone's "Feeling Good." She was expertly backed by drummer Salin Cheewapansri, keyboardist Nathan Vanheuverzwijn, guitarist Étienne Miousse, and bassist Danny Trudeau, on an enchanting set that also included "I've Got Peace Like a River."
Leslie Odom, Jr. started with a delightfully Latin-flavored "Look For the Silver Lining." He was joined by bassist Alexander Claffy, guitarist Steven Walker, percussionist Senfuab Stoney, pianist Michael Mitchell, and drummer John Davis. This was Leslie's first time in Montréal, and he said he was very happy to be there. The set continued with Nat King Cole's "I know That You Know." He joked about doing several TV shows that no one watched, until the runaway success of the Broadway mega-hit musical, Hamilton. His role in the show got him a recording contract, and he told the label that he wanted to record the kind of music that Nat King Cole would be doing, and he wanted to play festivals all over the world. He did a medley of Nat King Cole songs including, "Mona Lisa," "Straighten Up and Fly Right," "Unforgettable," and "Autumn Leaves." Odom encouraged audience participation  on a couple of songs from movies, "Minnie the Moocher" and "The Sunny Side of the Street."  Leslie has a warm, gorgeous voice that kept the audience enthralled, and he interspersed witty quips throughout. The performance continued with "Without You" from Rent, "Auld Lang Syne," and "Someday." For his encore, Odom sang a stirring "Killing Me Softly." It was one of the last shows of the Festival, but it certainly was not the least!
Short Takes  
Marianne Trudel & Karen Young – Portraits: Songs of Joni Mitchell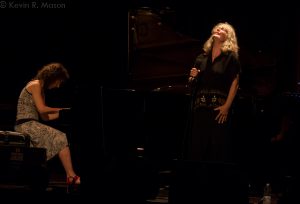 Illustrious singer Karen Young and noted pianist Marianne Trudel joined forces to perform the music of iconic artist Joni Mitchell. The set included "Cherokee Louise," "Will You Take Me As I Am," "Sunny Sunday," "Borderline," and "Shine" The show was filled with excellent scatting and soaring vocals by Karen, and lovely accompaniment by Marianne. Most of the songs were not Joni's better-known ones, aside from "Both Sides Now," but it was a deep dive into Joni Mitchell's repertoire.
Although Joni Mitchell did not appear at the Festival this year, she did receive the Spirit Award, which honors an artist for extraordinary contributions to the world of music.
Sasha Berliner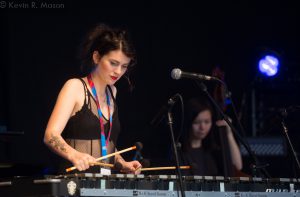 This young, very talented vibraphonist/percussionist/composer, Sasha Berliner, who was introduced at the Festival's preview party in April in New York City, played to a packed crowd at the Heineken Stage. She was strongly supported by drummer Jongkuk Kim, bassist Kanoa Mendehall, and pianist Chris McCarthy. The eclectic show presented first-rate performances by all the musicians, and Sasha Berliner more than lived up to the promise she showed at the preview party. As the Festival program stated, "Keep an eye on this one."
Benoît Charest Octet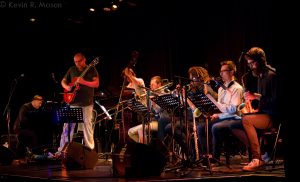 Guitarist/composer Benoît Charest started by introducing his band: alto saxophonist Erik Hove, tenor    saxophonist Bruno Lamarche, trumpeter Maxime St-Pierre, trombonist  Édouard Touchette, drummer Kevin Warren, bassist Morgan Moore, and pianist Daniel Thouin. They began with a charmingly surreal ballad, followed by an up tempo, Latin-flavored song. The next number started with a brilliant trumpet solo by Maxime St-Pierre, and there were other outstanding solos during the song. The music ranged from upbeat to somber, all played at a very high level of proficiency and depth of feeling, with tight harmonies, and excellent group chemistry.
Jazzlab – Effendi 20 Years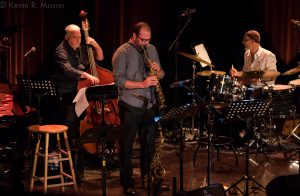 This inventive group of Canadian musicians paid tribute to the 20th anniversary of Effendi Records. Effendi was created in 1999 by Carole Therrien and Alain Bédard, and has become one of the most influential labels in Canada. The group was: pianist Francois Bourassa, trumpeter Jacques Kuba Seguin, clarinetist /saxophonist André Leroux, alto saxophonist Samuel Blais, soprano saxophonist Mario Allard, bassist Alain Bédard, drummer Michel Lambert, and trombonist Jean-Nicolas Trottier. They started with a hard-charging number where all the players were at the top of their game. These musicians come from the cream of the crop of Quebec artists, and this excellent group is a great representation of Effendi.
Alex Pangman
At the Scène TD outdoor stage, Canadian singer Alex Pangman gave an energetic and winning show that included "Honeysuckle Rose," a sassy version of "You've Got the Right Key, But the Wrong Keyhole," "The Panic Is On," "Bill Bailey, Won't You Please Come Home," "Serenade in the Dark," and "Shanghai Lil." She was backed by drummer Glenn Anderson, pianist Peter Hill, John MacLeod on the cornet/flugelhorn, and bassist Chris Banks. Alex Pangman is a survivor of Cystic Fibrosis and two double lung transplants, and she's become a tireless advocate for organ donation. At the end of the show, she acknowledged her fellow musicians, saying, "Thanks to my beautiful band, who make this super fun!" She also encouraged the audience to become organ donors. "When you pass away, be a hero!"
Plena Libre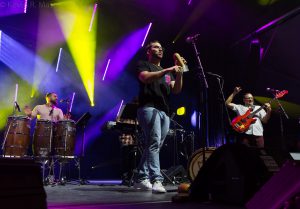 The hot rhythms of Plena Libre were the perfect accompaniment to the warm evening. The audience grooved and danced to the irresistible, high-energy beats by bassist Gary Nuñez, percussionist/vocalist Victor Velez, percussionist Rafael Falu, Marcos Lopez on timbales, trombonists Jesus Rafael Torres and Nicolas Marquez, percussionist/vocalist Luisga Nuñez, pianist Ricki Martinez, and Etienne Rivera on congas/drums.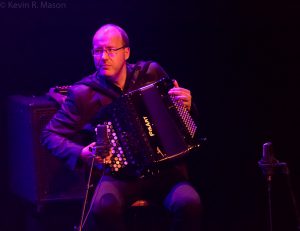 Django Festival Allstars Featuring Samson Schmitt, Pierre Blanchard, and Ludovic Beier
This band pays wonderful homage to famed guitarist Django Reinhardt. This talented group – guitarist Samson Schmitt, violinist Pierre Blanchard, Ludovic Beier on accordion, were joined by guitarist DouDou Cuillerier, and bassist Antonio Licuasti. This band is so good at the intricacies of the gypsy jazz that Reinhardt made famous. There were also displays of wit and humor, and they had the audience in stitches! In addition to the rapid-fire songs, there were some gorgeous ballads. "Rire Avec Charlie" was a tribute to Charlie Chaplin, and the set also included "Tea For Two."
Lucky Peterson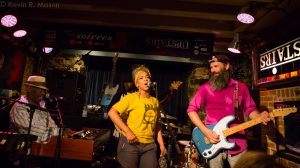 Bluesman Lucky Peterson has been dazzling audiences  with his keyboard and guitar skills for 50 years, since taking the stage with his father, James, at five years old. The patrons at Upstairs Jazz Bar & Grill enjoyed the band's unique extended covers of Bobby "Blue" Bland's "I Pity the Fool" and Ray Charles' "Georgia." Peterson's wife, Tamara Tramell, added smooth vocals to guitarist Shawn Kellerman's riveting solos and Peterson's quips, vocals, and keyboard mastery, with a seamless mix of blues, R&B, and funky soul.
Jane Bunnett and Maqueque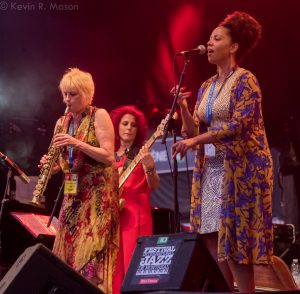 Festival fans got a special treat when Jane Bunnett and Maqueque played a free concert at the outdoor Rio Tinto stage, due to two cancellations: Bebel Gilberto's indoor show (where they were to be the opening act), and Quiana Lynell's outdoor show. Since 2014, Jane Bunnett and Maqueque have been thrilling music lovers worldwide with Bunnett's sax/flute virtuosity, and the talents of her young Cuban cohorts. Some of the original Maqueque members have gone on to solo projects, but their replacements are also stellar talents, as the fans who danced in the rain could attest. Playing music from their CDs Oddara and Jane Bunnett & Maqueque, their vocal harmony and group synergy made this show so captivating!
La Petite École du Jazz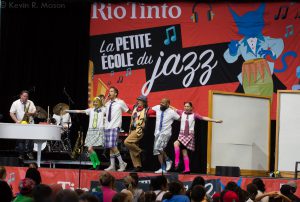 La Petite École du Jazz, a fun, interactive, bilingual show, is a perennial favorite, and it played to packed audiences twice daily, starring the beautiful harmony of Les Zélèves and the James Gelfand Quartet. The show used music, skits, dance, and humor to impart jazz lessons to children, with a lot of audience participation. Beloved blue Festival Mascot Ste. Cat was also featured in many of the skits, and was a big hit. The show included "We Will Rock You," "Take Five," "Frère Jacques" "Twist & Shout," "Georgia," "Cheek to Cheek," "When Sunny Gets Blue," "I Got Rhythm," "Take the 'A' Train," "In the Mood," "Sweet Cherokee," and "What a Wonderful World." The whole audience was really into it, kids and adults, and a great time was had by all!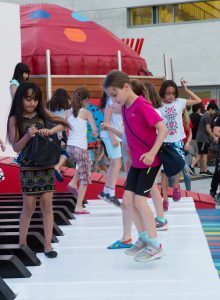 Other Family-Friendly Activities
There were Rio Tinto Family Zone and Rio Tinto Musical Park (that featured a large dance-on piano), merry-go-round biking, face painting, healthy snacks, and fountains throughout Place Des Festivals, where children and adults played in the water on hot days.
Blumenthal Montréal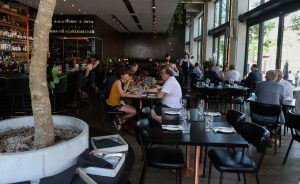 The Blumenthal Montréal restaurant is right in the heart of things, on the ground floor of the Maison du Festival. The menu features the freshest ingredients, locally sourced, used in creative, delicious dishes. The atmosphere is lovely, and it is the perfect place to eat any time of the day – lunch, pre-show dinner, or a late meal. Notably, Blumenthal Montréal is a non-profit enterprise, with all the proceeds going toward promoting various Festival endeavors. So, when you patronize the restaurant, you can eat well and do good for the Festival at the same time!
In Conclusion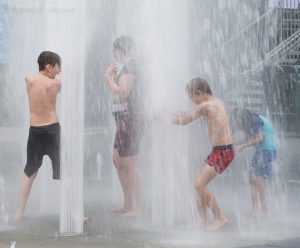 The 40th year of Le Festival International de Jazz de Montréal offered everything you could want – great atmosphere, wonderful food, and most of all, a cornucopia of jazz and jazz-related genres, including blues and world music. Something special was created in Montréal 40 years ago, and it keeps getting bigger and better. The 41st edition will take place from June 25 to July 4, 2020. The Festival also has their Jazz-All-Year Round program, and upcoming concerts include Diana Krall and GoGo Penguin. For more information, go to: www.montrealjazzfest.com.