Adam Rudegeair Quintet: The Bowie Project (Independent, 2015)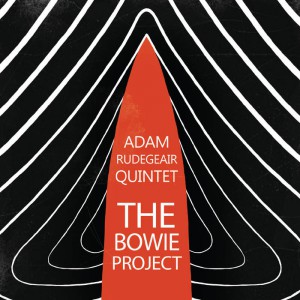 When British Pop legend David Bowie died unexpectedly this past winter, it rocked the music world, to say the least. Bowie had a fingerprint in just about every genre of music imaginable including Jazz. His songs have been covered by Brad Mehldau, Geoffrey Keezer and many others. His final recording was likened to Jazz, though the only distinctions I'd make might be the presence of his own sax and the arrangements and contributions of Minnesota's own Maria Schneider.
I imagine Adam Rudegeair's The Bowie Project (actually released months before Bowie's death) is only an early entry in what will doubtless be a long line of tributes, God save us from the bad singers!  But this quintet effort is decent.  It spans the Thin White Duke's five-decade career and is a good test of a Jazz tribute album.  It could pass for an original to the handful of people who might be unfamiliar with Bowie's catalogue. The only head-scratcher was the reference to Brian Wilson's "God Only Knows" in an otherwise decent medley.