Well behaved women seldom make history. — Laurel Thatcher Ulrich (1976)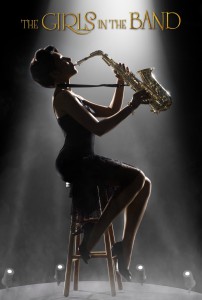 The long-running Big Band Night at Jazz Central Studios brings at least four area big band ensembles into the basement gallery every month, every Tuesday night. When there's a fifth Tuesday, like this month, there's often a new or unusual ensemble on the schedule. The Swing Sisterhood Big Band fits both descriptors — a relatively newly organized band, performing their first public gig, with 100% women musicians under the leadership of St. Thomas professor Sarah Schmalenberger. In addition to their 8:30 pm show on March 29th, there will be a rare opening act on Big Band Night at 7:45 — the new jazz/fusion ensemble, Emergence Brass Band.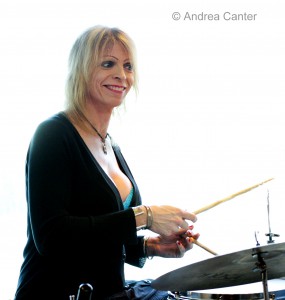 The Swing Sisterhood includes a roster of seasoned music educators, freelancers, composers, and college students, including a few who have well-established careers as performers, such as drummer Jendeen Forberg and bassist/guitarist Joan Griffith. The band emerged from a conversation between hornist Sarah Schmalenberger and saxophonist Sarah Minette, colleagues on a research project about all-female rock bands in the Twin Cities.  "During our drive to a conference to present our research, we discussed whether there were enough jazz women in the Cities to form a big band," recalls Schmalenberger.  "As we ticked off names of horn players and rhythm section players from our respective contacts, we realized that it might just work. Why not give it a try? Since then, the network of musicians we have invited to Sunday sessions grew, to where the band now has an impressive sub list, too."
The ensemble started meeting one Sunday per month to "read down charts." And the sessions "have a clearly vibrant sound of enthusiasm for making music with other women, especially those with a passion for jazz," says Schmalenberger. "These musicians cheer the drummer, whoop for soloists, and high-five their section mates!"
Swing Sisterhood Big Band is aptly scheduled during Women's History Month. Jazz Central Studios will now be a part of that history, at least the history of jazz in the Twin Cities. It's our own edition of the Diva Orchestra, a modern-day International Sweethearts of Rhythm, Minnesota style.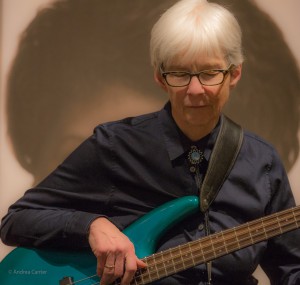 Locally, jazz women have also come together for "Women in Jazz" concerts and workshops produced by Pippi Ardennia and her PipJazz Foundation, featuring small ensembles of professional and student musicians, including Pippi's Women of Jazz (sextet) that performed before and after the recent screening of the film, The Girls in the Band, at TPT studios. Scheduled on the Mears Park Main Stage (June 24) for the 2016 Twin Cities Jazz Festival will be a premiere performance of another "Women in Jazz" ensemble, organized by Patty Peterson, featuring Mary Louise Knutson, Sheila Earley, and more.
Jazz Central Studios is located at 407 Central Ave SE in Minneapolis; http://jazzcentralstudios.org; the nonprofit venue asks for donations of $10 ($5 students) to support the artists and the venue.