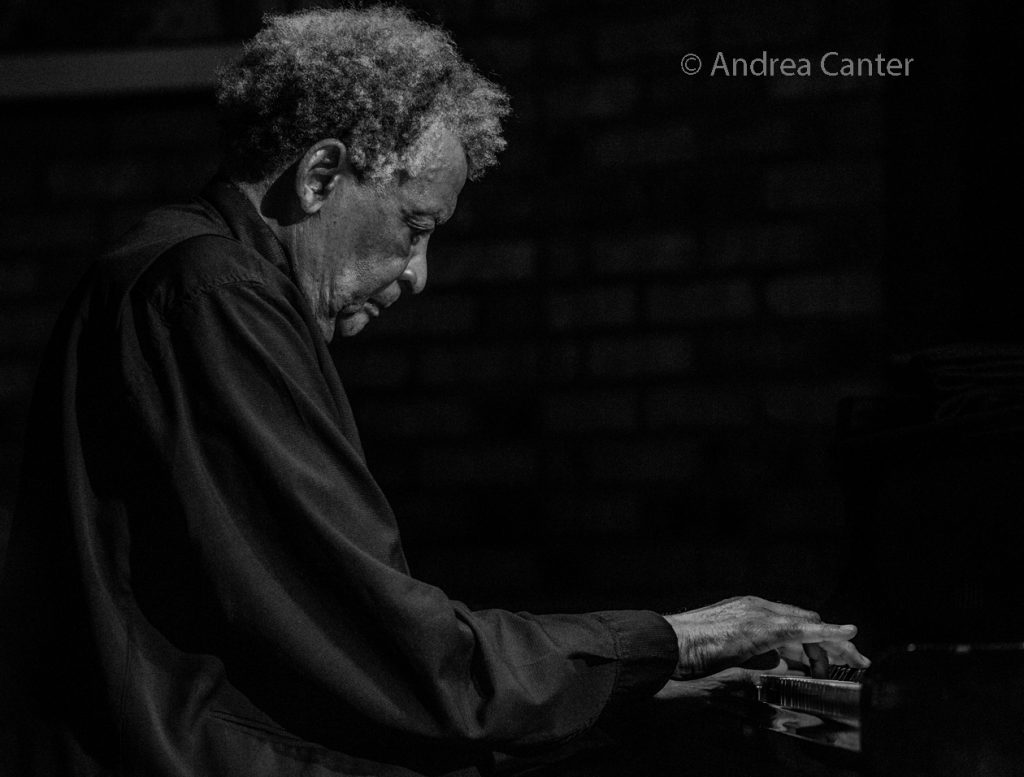 "There are some concerts that change the way you look at music. And then there are those rare concerts that change the way you look at life." –Ed Siegel, The ARTery
"Never one for pyrotechnics, he says much with little, luxuriating in melody until a sudden harmonic shift or sharp stab of dissonance sends ripples through the formerly placid waters of his sound." –Shaun Brady, The Inquirer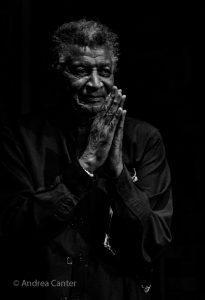 Abdullah Ibrahim, dubbed the "African Mozart" by Nelson Mandela, emerged from Apartheid as one of the world's most elegant pianists and composers. "Discovered" by Duke Ellington and living in exile for the first part of his career, he has been revered from New York to Cape Town for his signature style rooted in church hymns, traditional African rhythms and American jazz, music that is both meditative and groove-propelled, Monkish and Ellingtonian. In a rare tour that brings him to Minnesota, Abdullah Ibrahim and his long-standing septet, Ekaya, perform two sets at the Dakota on Wednesday, May 4, at 7 and 9 pm.
Born Adolph Johannes Brand in Cape Town, South Africa, young Ibrahim started playing piano at age seven, heavily influenced by traditional African music, African-American hymns and spirituals, and jazz, and encouraged musically by his grandmother –the church pianist–and his mother–the choir leader. He joined a doo-wop group as a teen and worked with the Tuxedo Slickers. His first bands included the Dollar Brand Trio and then the septet The Jazz Epistles (1960-61), which included trumpeter Hugh Masekela and alto saxophonist Kippie Moeketsi. An outspoken opponent of apartheid, Ibrahim (still known as Dollar Brand) left South Africa after the Sharpeville massacre and imprisonment of Nelson Mandela, landing in Switzerland at Club Africana in Zurich in 1962.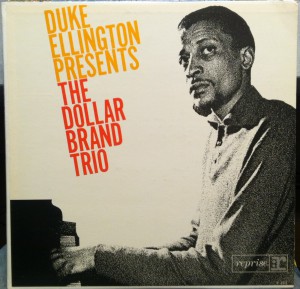 While in Switzerland, Ibrahim's wife-to-be, vocalist Sathima Bea Benjamin, urged Duke Ellington to check him out. Greatly impressed by Ibrahim's soulful synthesis of African and American jazz stylings, Ellington recorded the Dollar Brand Trio in Paris, released in 1963 as Duke Ellington Presents the Dollar Brand Trio on Duke's Reprise label, and eventually convinced Abdullah and Sathima to move to the U.S. in 1965. In the U.S., still as Dollar Brand,  Ibrahim worked with such 1960s stars as Coltrane, Don Cherry, Ornette Coleman, Elvin Jones, Gato Barbieri and Sunny Murray, appeared at the 1965 Newport Jazz Festival and at Carnegie Hall, and, in 1966, subbed as leader of the Ellington Orchestra for five concerts. In 1967, he received a Rockefeller Foundation grant to attend the Juilliard School of Music.  He converted to Islam after a brief return to South Africa in 1968, taking the name Abdullah Ibrahim.
In the early seventies, Ibrahim toured America, Asia, and Europe, again leaving his South Africa homeland in 1976 to return to the U.S.  In the eighties, he launched his band Ekaya (Home),  wrote Kalahari Liberation Opera, and composed the soundtrack for two French films, Chocolat (Mindif) and No Fear, No Die. After the fall of Apartheid, Ibrahim returned to South Africa in 1990 at the invitation of Nelson Mandela, where he played at Mandela's inauguration in 1994. Ibrahim continued to tour throughout the world, splitting his time between New York and Cape Town. In 1997, he collaborated on a recording and tour with Max Roach, toured internationally the following year with the Munich Radio Philharmonic Orchestra.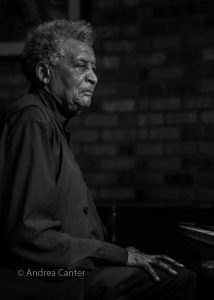 Over his career,  Adbullah Ibrahim has released more than 50 recordings as leader, including African Piano (1969, Japo), African Sketchbook (1973, Enja), Good News From Africa and Echoes From Africa (with Johnny Dyani, 1973, 1979, Enja); At Montreux, (1980, Enja), Zimbabwe (1983, Enja), Water From an Ancient Well (with Ekaya, Tiptoe, 1985), and African River (1989, Enja). More recent recordings including African Suite (1999, Enja); Cape Town (2000, Enja), African Magic (2003, Enja-Justin Time), the much acclaimed solo, Senzo (2008, Sunnyside), Bombella (2009, Intuition), Sotho Blue (2010, Sunnyside), Mukashi: Once Upon a Time (2014, Sunnyside), and his 80th birthday celebration solo release, The Song Is My Story (2014, Sunnyside).
An inspiring and devoted educator, Ibrahim founded the M7 Center in Cape Town, which advocates a holistic approach and familiarizes young artists with the secrets of tradition and nature. He also served as artist-in-residence with the Essen Philharmonie. In 2006, he led the creation of the Cape Town Jazz Orchestra.
The musicians of Ekaya who will join Ibrahim at the Dakota include Cleave Gutyon (alto sax, flute), Keith Loftis (tenor sax), Jason Marshall (bari sax), Andrae Murchison (trombone), Belden Bullock (bass), and George Gray (drums).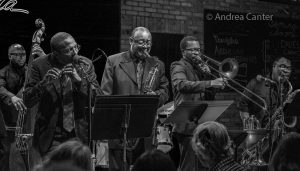 The Dakota is located at 1010 Nicollet Mall in downtown Minneapolis; reservations recommended at www.dakotacooks.com or 612-332-5299; shows at 7 and 9 pm, tickets $30-$50.
More about Abdullah Ibrahim including discography and tour dates at http://abdullahibrahim.co.za/