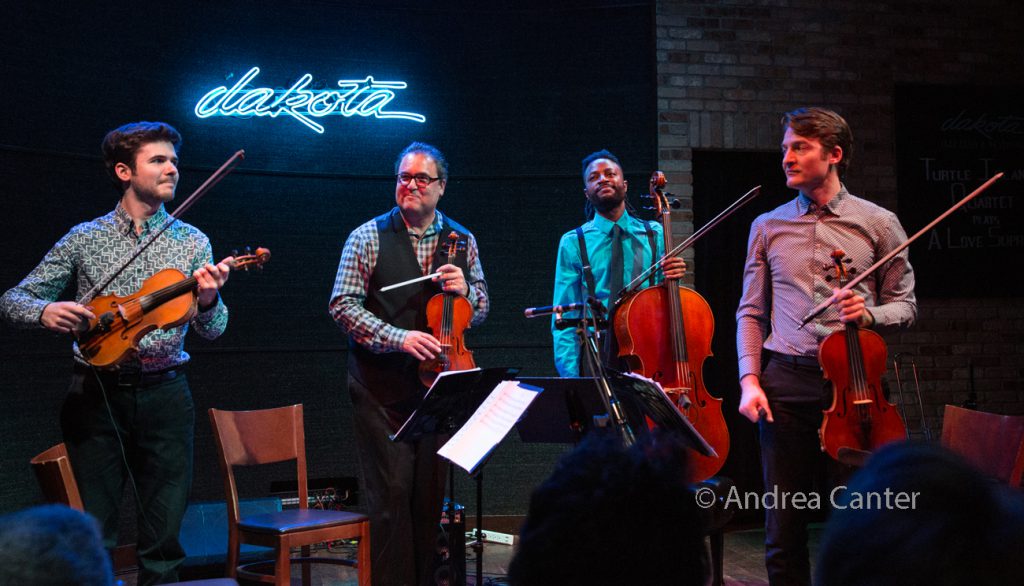 © Andrea Canter
"A unified voice that truly breaks new ground – authentic and passionate – a reflection of some of the most creative music-making today." –Yo Yo Ma
The Grammy-winning Turtle Island Quartet  is more often heard in concert halls than small jazz clubs, yet their music seems equally at home in a jazz environment or a classical venue. Bringing improvisation and an amalgam of styles to a classical music foundation, TIQ is the ultimate cross-over ensemble, bringing as much innovation to Jimi Hendrix as to John Coltrane. Having appeared at the Dakota a few times in the past decade, notably with "Electric Ladyland" and in the entertaining company of Nellie McKay, the quartet returns with their interpretation of Coltrane's "A Love Supreme," Monday, January 23.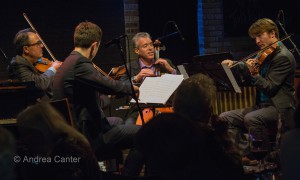 Founded by violinist (and sole remaining original member) David Balakrishnan in 1985, the ensemble takes its name from Native American creation mythology and reflects Balakrishnan's own eclectic background. "My father is from India, so I grew up hearing that music as a kid." Already surrounded by the music of India, he also became a fan of Jimi Hendrix, then fusion, bebop, and David Grisman, ultimately founding TIQ as "the way that I found to connect the dots." Those dots include everything from modern classical repertoire, jazz and American roots music to classic rock, Latin, East European and Middle Eastern folk traditions and beyond. The quartet has recorded a long list of albums for Windham Hill, Chandos, Koch and Telarc (winning the 2006 and 2008 Grammy Awards for Best Classical Crossover Album), soundtracks for major motion pictures, and boasts TV and radio credits (Today Show, All Things Considered, Prairie Home Companion, and Morning Edition) as well as feature articles in People and Newsweek magazines. Over the years, the TIQ has collaborated with such diverse stars as Paquito D'Rivera, Stefon Harris, Leo Kottke, the Assad brothers, Cyrus Chestnut, The Manhattan Transfer, Billy Taylor, Kenny Barron, Ramsey Lewis, the Ying Quartet, Tierney Sutton, Nellie McKay, and the Parsons Dance Company.
As much as they are forward-moving, the TIQ also has a revivalist spirit, reaching back over 200 years to the early traditions of improvisation and composition of chamber ensembles, and bringing to new life iconic works of legends like Coltrane and Hendrix. Their popularity has moved what was once termed "alternative chamber music" into the mainstream, into concert halls, festival stages, and jazz clubs worldwide.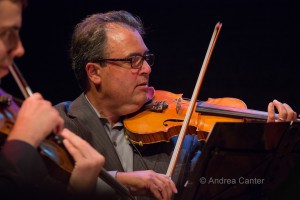 Founder David Balakrishnan (violin, baritone violin, composer) graduated from UCLA with a B.A. in music composition and violin and earned a masters degree in music composition at Antioch University West. He's earned numerous commissions, grants, awards and Grammy nominations for composition and arranging, including his 2016 nomination for his composition "Confetti Man," the title track of TIQ's most recent release.  His "Tree of Life," recorded on Have You Ever Been… was commissioned by the Lied Center as a multi-media work involving theater, dance and music, as a response to controversies surrounding theories of evolution, and commemorating the 150th anniversary of the publication of Origin of the Species and 200th anniversary of the birth of Charles Darwin.  In 2015 he received Chamber Music America's prestigious Classical Commissioning Program grant, supporting a full-length work commemorating the quartet's 30th anniversary season.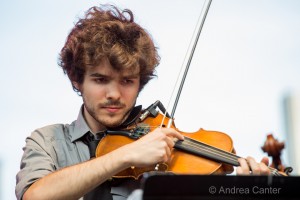 Violinist Alex Hargreaves is an active performer whose credits include Austin City Limits, A Prairie Home Companion, Panama Jazz Festival, Bonnaroo, Newport Jazz and Folk Festivals, and the Telluride Bluegrass Festival, as well as venues in Europe and South Korea. He joined mandolinist Mike Marshall's Big Trio at age 17. For seven years, he toured with singer/mulit-instrumentalist Sarah Jarosz, and has also toured with Jerry Douglas, David Grisman, Bela Fleck, and Danilo Perez. At 15, he was the youngest-ever winner of the National Oldtime Fiddlers Context, and in 2010, was awarded the Jimmy Lyons Scholarship from the Monterey Jazz Festival, fully supporting his tuition at the Berklee College of Music. At Berklee, he was seleted fro the Berklee Global Jazz Institute directed by Danilo Perez; he toured with Perez's trio and appears on Perez' Panama 500.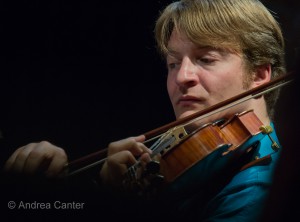 A native of Bochum, Germany, Benjamin von Gutzeit was surrounded by musicians– his father a well-known educator, his mother a pianist, and two siblings classical string artists. He studied viola with his father from age 4-12, when he began studies with Emile Cantor of the Orpheus String Quartet. After winning the German Youth Competition Jugend Musiziert in 1992 and 1994, he toured Japan as a solo artist. At 15, Benjamin began playing electric bass as well as viola; from 2001-04, he studied at the Bruckner Conservatory in Linz, Austria with jazz violinist Andreas Schreiber, then moved on to jazz studies at the Conservatory of Amsterdam and became active on the Dutch jazz scene. In 2010 he moved to New York City and became the first violist to earn a Master's Degree from the Jazz program of the Manhattan School of Music. Benni has performed and recorded with jazz violinist Mark Feldman, electronic music virtuoso Matthew Herbert, cellist Ernst Reijseger, and saxophonist Dave Liebman.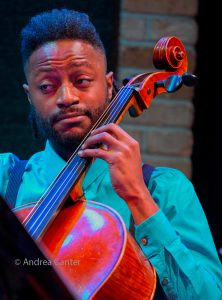 The most recent addition to TIQ, New Orleans native cellist Malcom Parson is a long-time member of the Carolina Chocolate Drops.  He attended the Berklee College of Music and participated in the Atlanta Symphony Orchestra's Talent Development Program, performing as an orchestra soloist at age 14.  After winning the orchestra's Young Artist Competition, he performed at the National Black Arts Festival "Classics From the Next Generation" and at the 50th birthday celebration for Andre Watts. Malcom won a Golden Horn Award from the Louis Armstrong Foundation (a personal violin) and a cello from the National Academy of Recording Arts and Science. Over his career, Parsons has performed with such artists as Del McCoury, Ron Carter, Paquito D'Rivera, Patrice Rushen, Terri Lynn Carrington, Dave Liebman, and Christian Howes, as well as collaborating with choreographers such as Twyla Tharp, Julia Gleich, and dance company Brooklyn Ballet. He has also composed numerous compositions for solo cello, small ensembles and short films.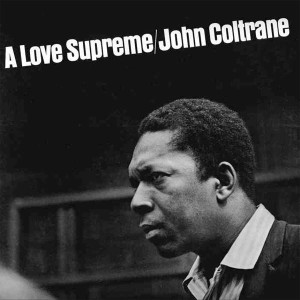 At the Dakota, the TIQ will give listeners an in-depth look at Coltrane's landmark recording, A Love Supreme, in the greater context of the music that preceded and followed. Recorded four decades ago at a time when the country was deeply troubled by issues of race and war, Coltrane's masterpiece was a personal statement of redemption and salvation that spoke to millions of listeners, becoming one of the most enduring jazz recordings of all time from the era many consider to be the last great evolutionary period of jazz. In exploring John Coltrane's musical legacy, TIQ continues its own tradition of employing the string quartet form to shed new light on the timeless joy and beauty contained in the greatest music of the American jazz masters.
The Turtle Island Quartet performs two shows at the Dakota, located at 1010 Nicollet Mall in downtown Minneapolis, 7 and 9 pm. Tickets at 612-332-5299 or online at www.dakotacooks.com