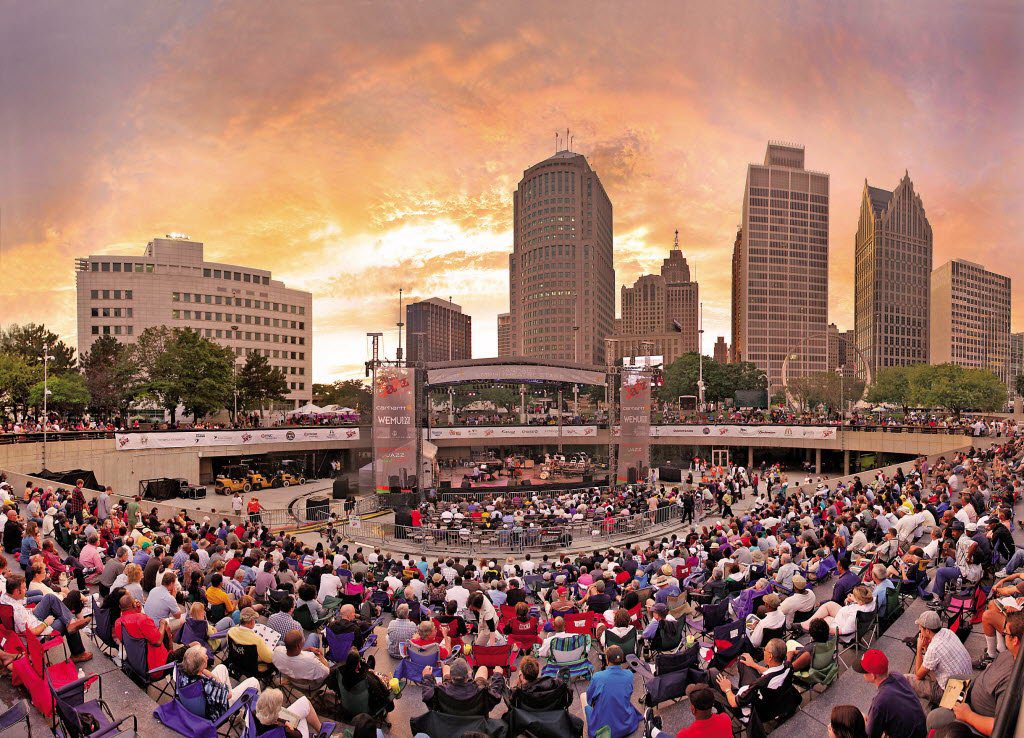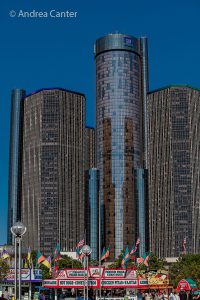 Labor Day Weekend in Detroit has a long tradition of community, hope, and of course the best jazz in the world, with an estimated quarter of a million or more attending the annual Detroit Jazz Festival over four nights and three full days. Music runs seemingly nonstop on four outdoor stages stretching a relatively short distance from Camp Mauritius in the heart of downtown to Hart Plaza along the Detroit River Waterfront. In addition to drawing from the greater Detroit metro area, about one-quarter of the audience comes from outside Michigan. And thanks to a large endowment from "Jazz Angel" Gretchen Valade (Chair of Mack Avenue Records), grant funding, generous sponsors, and effective fundraising, the festival remains free and family-friendly. And, notes Artistic Director Chris Collins, "This year, I'm really focused on broadening the reach (of the festival). Jazz as an art form is not only sophisticated and intelligent, but it also speaks to the organic roots of every human being, every American, every Detroiter."
Festival Highlights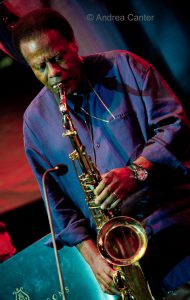 Highlights of the 38th annual festival (September 1-4) include Artist in Residence Wayne Shorter performing in several configurations; an opening night extravaganza featuring Shorter, Herbie Hancock, and Danilo Perez; a parade of saxophonists including Shorter, 88-year-old Benny Golson, 21st century phenoms Kamasi Washington and Donny McCaslin, and Joe Lovano (with Chucho Valdes and their Quintet); acclaimed vocalist Dee Dee Bridgewater; Detroit native violinist Regina Carter paying tribute to Ella Fitzgerald; more centennial tributes– to Thelonious Monk via Danilo Perez (Panamonk) and John Beasley's MONK'estra big band; trumpet monster Sean Jones; young British vocalist Kat Edmondson; Jason Marsalis Vibes Quartet; Vijay Iyer's Sextet; Russell Malone's Quartet; bass legend Stanley Clarke;  the all-star ensemble Hudson featuring Jack DeJohnette, John Scofield, Larry Grenadier and John Medeski.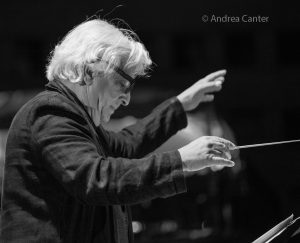 With a $40,000 grant from the National Endowment for the Arts, the festival commissioned and will present the world premiere of  "Legends and Legacy: An Ode to Michael Brecker." Five-time Grammy-winning composer, arranger, producer and keyboardist Gil Goldstein has partnered with the Festival Foundation to compose this multi-movement work, to be performed by the Detroit Festival Chamber Orchestra with Goldstein conducting, and featuring three legendary saxophonists–Joe Lovano, Donny McCaslin and Rick Margitza, and a rhythm section of Goldstein on piano and accordion, John Patituci on bass, Brian Blade on drums (September 3). Notes Chris Collins, "This project not only helps us celebrate the legacy of Brecker, but it also places a major emphasis on education and culture, which are critical to the Detroit Jazz Festival Foundation's mission to nurture the development of jazz music."
For the second year, Detroit-based Quicken Loans sponsors the "Untitled Series," this year bringing drummer Karreim Riggins presenting performances with Common and in duo with Esperanza Spalding. "We are thrilled to have Quicken Loans as our presenting sponsor once again and spearheading our 'Untitled Series'," said Chris Collins, President and Artistic Director of the Detroit Jazz Festival Foundation. "With their support, we have signed on a phenomenal group of artists with a range of textures, who we know are going to mesmerize not only jazz aficionados, but help us showcase the power of jazz to a whole new demographic."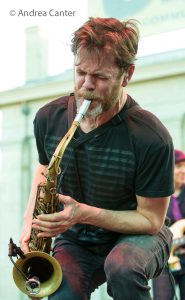 "Being from Detroit, I've always been an admirer of the Jazz Festival and its support of the music in the city," said Riggins. "I am extremely honored to be a part of such an incredible series that I feel adds diversity to what is already the most amazing jazz festival in the world." Riggins' involvement with "The Untitled Series" and the Detroit Jazz Festival presented by Quicken Loans goes beyond his signature performances — it reaches the future generations of jazz musicians. This fall, Riggins will return to Detroit for an educational workshop to work with jazz students from the Detroit Public Schools Community District.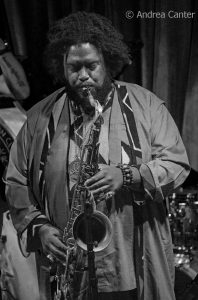 The rest of "The Untitled Series" includes Miles Mosley + The West Coast Get Down, Theo Croker Escape Velocity,  the Donny McCaslin Group, Cameron Graves, Kamasi Washington,  and the 2017 Artist-in-Residence Quartet (Wayne Shorter, Leo Genovese, Esperanza Spalding and Terri Lyne Carrington). Originally this was to be a quintet with Detroit native pianist Geri Allen, who passed away about two months ago.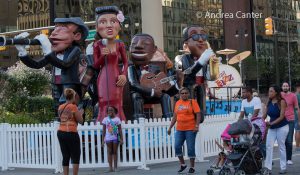 History
The Detroit International Jazz Festival was founded in 1980 by Robert McCabe and the Detroit Renaissance. Along with the Detroit Grand Prix and the International Freedom Festival, the Festival was intended to bring people into the city and to provide all segments of the population with world-class entertainment.  From 1980 to 1991, the Festival flourished through a partnership with the highly regarded international jazz festival in Montreux, Switzerland. In 1991, the Festival merged with Detroit's Music Hall Center for the Performing Arts, where it resided until September 2005.  In March 2005, Detroit philanthropist and Mack Avenue Records Chairman Gretchen Valade emerged as a major sponsor of the Festival. With additional support from the Knight Foundation, the Festival expanded in all aspects. Its new footprint, covering three blocks, provided two additional stages and more space for food vendors and other activities. The Festival is now managed and produced by the Detroit International Jazz Festival Foundation, a 501 (c) (3) nonprofit formed in 2006 and with operations supported by a generous endowment from Gretchen Valade.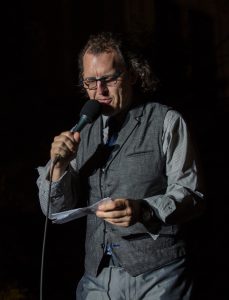 Looking to attract new audiences to jazz and the Festival, in 2011, jazz musician Chris Collins was appointed as Artistic Director and has since taken on the role of President of the Detroit Jazz Festival Foundation. With Collins' vision and the support of the Detroit Jazz Festival Foundation Board of Directors – led by Chair Gretchen Valade – the Foundation has continued to integrate new and exciting artistic elements and opportunities into the signature event, in addition to year-round programming.
Funding and Sponsors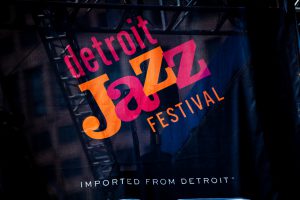 The Detroit Jazz Festival Foundation receives grant funding from the Kresge Foundation, Michigan Council for Arts and Cultural Affairs, Erb Family Foundation, Arts Midwest, and the National Endowment for the Arts. Hundreds of individuals also contribute to the Festival through membership and donations.
Major corporate partners include Quicken Loans, JPMorgan Chase & Co., DTE Energy Foundation, Mack Avenue Records, Carhartt, Inc., Ford Motor Company, Dirty Dog Jazz Cafe, Greektown Casino-Hotel and Comcast Cable. Additional partners include Absopure, AMTECH International, Andiamo, Bedrock, Bingham Legal Group, Central Michigan University, Cliff Bell's, Detroit Marriott at the Renaissance Center, Detroit Saxophone Center, Detroit 300 Conservancy, Digital Planet, MGM Grand Detroit, Murals in the Market, Oakland University, Pepsi, Plante Moran, St. John Providence, Wayne County Community College District, Wayne State University, Whole Foods Market and Woodward Gallery. Media partners include Fox 2, WJR, WEMU-FM, DownBeat, JAZZIZ, JazzTimes, Metro Times, WRCJ and Detroit Public Television. The Greening of the Festival is supported by a generous grant from the DTE Energy Foundation.
Livestream–Watch the Festival Live!
On-site and out-of-town jazz enthusiasts who want to watch live performances (including the Untitled Series) can livestream acts from all four stages, all four days, via the Detroit Jazz Fest LIVE! app. It costs $10 to watch the performances, while Festival maps and other details can be viewed on the app for free. The app can be downloaded at live.detroitjazzfest.org or through the Google Play Store.  To see Festival performances in action and avoid the commute to the 38th Annual Detroit Jazz Festival, attendees can book their stay at the Festival's official hotel, the Detroit Marriott at the Renaissance Center.
Visit www.detroitjazzfest.org for more information.