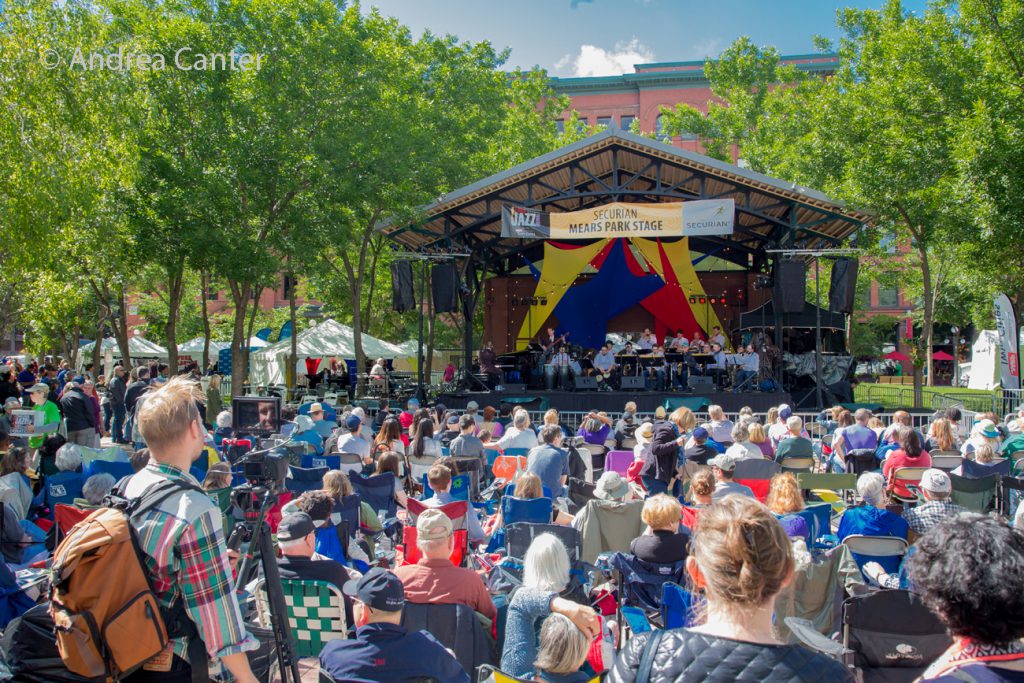 Adapted from April 17, 2018 press release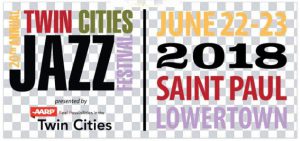 The 20th annual Twin Cities Jazz Festival will be headlined this year by Grammy-winning vocalist Dee Dee Bridgewater, New Orleans artists Nayo Jones and Aurora Nealand with Tom McDermott,  and two generations of acclaimed saxophonists — Tia Fuller and Houston Person with the Emmet Cohen Trio.
Said festival Executive Director, Steve Heckler, "I'm excited to have these national jazz musicians at Jazz Fest this year. Thanks to the support we get from the community, we're able to keep our event free and open to all. And, this summer we are excited to announce that Twin Cities Jazz Festival is partnering with the Ordway to bring Diana Krall to the Ordway Concert Hall on June 12. Tickets for this concert are available now at ordway.org or by calling 651-224- 4222."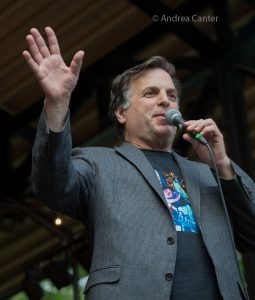 With generous support from returning sponsor and partner AARP, the three-day festival, set for June 21 – 23 in and around Mears Park in Saint Paul's popular Lowertown Arts District, will include headline acts on the Mears Park Main Stage, Union Depot Stage, and the stage at TPT, as well as performances in nearby clubs, bars, and studio venues. Additionally, the festival's tradition of presenting young artists continues with performances by Walker West Music Academy, MacPhail Center for Music, and the annual Dakota Foundation for Jazz Education Youth Showcase. Master classes and clinics will be offered through the support of MacPhail.
This jazzy weekend will kick-off on Thursday, June 21 with music in Lowertown clubs and restaurants, with festival stages presenting headliners and great local acts on Friday, June 22 and Saturday, June 23. A detailed schedule will be announced later this spring.
Headliners, Mears Park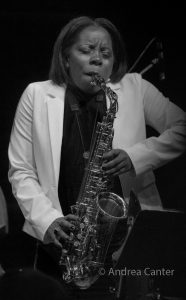 Saxophonist Tia Fuller (Friday, June 22 at 6:30 pm) spent her early career performing with R&B star Beyoncé, performing on a number of the superstar's tours, albums, and even as the featured soloist with the singer for President Obama at the White House. Ms. Fuller has built her jazz reputation through four albums with her quartet, the most recent Angelic Warrior released in 2012 on Mack Avenue. A professor at Berklee School of Music, she toured with Terri Lyne Carrington and the Grammy-winning "Mosaic" project, Esperanza Spalding's "Radio Music Society" tour, and Dianne Reeves' "Beautiful Life" tour, in addition to performing with Ralph Peterson, Rufus Reid, Sean Jones, Geri Allen, Nancy Wilson Orchestra, Wycliffe Gordon, and the Mack Avenue Superband, among others.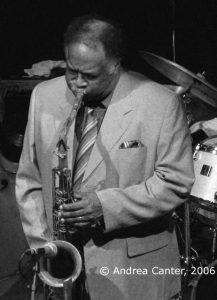 Bringing his thick-toned, tenor sound, Houston Person (Friday, June 22 at 8:30 pm) stars with the Emmet Cohen Trio. Known for his bluesy sound and work with jazz organists, Person has been a combo leader for more than 50 years, working with a range of jazz legends like Etta Jones, Ran Blake, Ron Carter, Cedar Walton, and Ray Drummond. In 2015, Person released a duo recording with Ron Carter, followed by his most recent album, Rain or Shine. New York pianist Emmet Cohen made his Twin Cities debut just a year ago but should already be considered an honorary jazz citizen. In addition to performing at the 2017 Twin Cities Jazz Festival, Cohen has appeared twice in the Dunsmore Room at Crooners Lounge (most recently on April 8 with drummer Tootie Heath) and at Jazz Central Studios. Still in his 20s, Cohen was a finalist in the Monk International Piano Competition (2011) and Cole Porter Fellowship Competition (2011 and 2015), and won the Phillips Piano Competition (2011) and American Jazz Pianists Competition (2014). In addition to touring with his trio, Emmet launched his Master's Legacy recording series, following the series debut with Jimmy Cobb with his 2017 release with Ron Carter.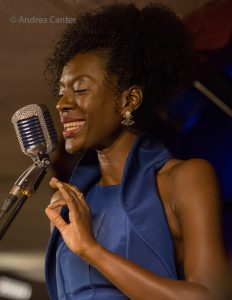 Nayo Jones (Saturday, June 23 at 6:00 pm) debuted at the New Orleans Jazz & Heritage Festival in 2012, where she since has appeared annually. Ms. Jones has opened for such greats as Chris Botti, Otis & the Temptations, The Whispers & Lakeside.  In addition to her own show, Ms. Jones currently tours alongside New Orleans' iconic jazz trumpeter, Kermit Ruffins. Though still a relative newcomer in the music industry, she already has the savvy of a classic artist and has proven to be a force to be reckoned with.  Ms. Jones has an extraordinary ability to capture her audience and keep them in a trance every time she hits the stage. Nayo Jones continues to cherish those classic tunes she heard growing up and is committed to bringing back the "authenticity of music" each time she performs.  Her fans have compared her to the likes of Natalie Cole, Roberta Flack and even Billie Holiday as she belts out tunes from jazz standards to adult R&B.
Vocalist Dee Dee Bridgewater (Saturday, June 23 at 8:30 pm) was named a 2017 NEA Jazz Master, only adding to her prominent stature on today's jazz scene as a three-time Grammy award winner, prolific recording artist, successful producer, and host of NPR's award-winning Jazz Set. Ms. Bridgewater brings her fierce passion, originality, and dynamic personality to all of her projects and her work with artists such as Max Roach, Sonny Rollins, Dexter Gordon, Thad Jones/Mel Lewis Big Band, Ramsey Lewis, and Stanley Clarke, among others. Dee Dee also brought her voice to the Broadway stage, winning the Tony Award for her role as Glinda the Good Witch in The Wiz; in London, she won the coveted Laurence Olivier Award nomination as Best Actress for her role as Billie Holiday in Stephen Stahl's Lady Day. Her most recent album, Memphis, Tennessee, honors Ms. Bridgewater's birthplace and the history of blues, R&B and soul in this music city, covering classics that were created or associated with Memphis.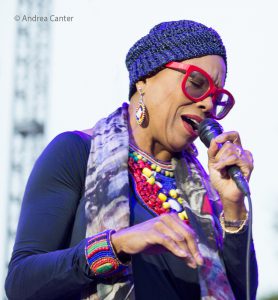 Aurora Nealand and Tom McDermott (Saturday, June 23, 9 pm, TPT Stage). An established bandleader, composer, performer and improviser, Aurora Nealand has become a prominent force in the New Orleans music scene since she first arrived in 2005. Combining the "formal education" – a music composition degree from Oberlin Conservatory and training at the Jacques Lecoq School of Physical Theatre in Paris –  with the "informal"  experience of playing music in the streets and clubs of New Orleans and throughout the northern Hemisphere, Nealand has emerged as an innovative, sensitive and daring music creator and performer. She is most recognized for her performance on saxophones, clarinet, and vocals, and has been at the forefront of the revival of New Orleans Traditional Jazz among the younger generation of the city's musicians. Tom McDermott, one of the top purveyors of the NOLA sound, will join her on piano on  the TPT Jazz Vocal Showcase Stage.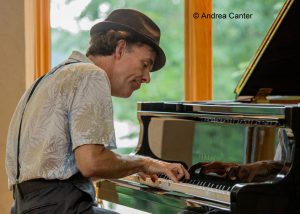 The Twin Cities Jazz Festival, established in 1998, is a non-profit organization, with a mission to keep the art form of jazz alive and well in our community. Support for the 2018 Twin Cities Jazz Festival is provided by AARP. Music lovers will be able to enjoy free light rail and bus rides on both days of the Festival, courtesy of MetroTransit. Dunn and Semington is the official printing company.
For more information, visit TwinCitiesJazzFestival.com, or follow @tcjazzfestival on Facebook, Twitter, and Instagram. We'll also be streaming live on Facebook (as permitted) during the Festival. To join Jazz Fest's email list, click here. #tcjazzfest
Musicians and schedule subject to change. The entire line-up and additional festival details will be released in May.